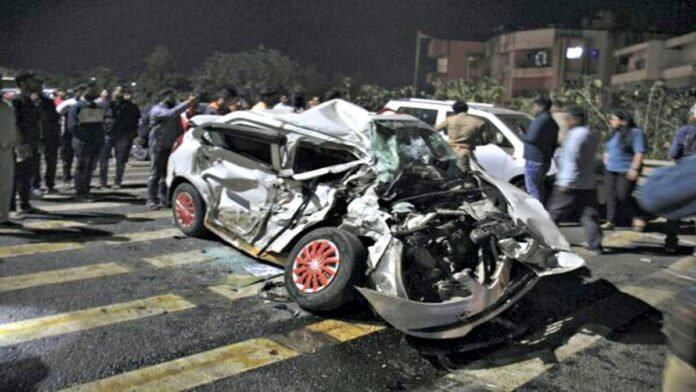 Pune: In Pune, Maharashtra, a series of accidents near the Navale Bridge. on Monday, 6 people have been injured in a horrific accident here. In fact, the container coming down from the bridge got uncontrolled and hit the vehicles standing there directly. The collision was so fierce that there was a lot of chaos on the spot.
According to the Pune Police on the matter, the accident took place at around 8.30 pm on the Pune-Bengaluru highway. During the accident, oil spilled on the road, due to which the slippery road increased, and the number of vehicles increased. The accident occurred due to a brake failure of a container going from Mumbai to Satara. The accident was so gruesome that 48 cars collided with each other. About two to three-kilometer-long queues have formed on the way from Satara to Mumbai, causing a traffic jam. Even while getting down from the bridge, the speed of this container was very high, so it is believed that the brake has failed. Here it collided with several vehicles stuck in traffic on the container bridge, of which 6 people have been injured so far.
In the video of this incident released in ANI, the horrors of the accident can be clearly seen in the daylight, how the speed of this container played the game of death on the bridge. The condition of the damaged vehicles can be clearly seen in this video. According to the information provided by the local police and fire services of Pune City and Pune Metropolitan Region Development Authority on the matter, the incident took place at the Navale Bridge area around 8.30 pm last night. PMRDA and fire department's fire officer Sujit Patil said that some of the injured have been admitted to nearby hospitals by the citizens living nearby. The investigation into the incident is ongoing.