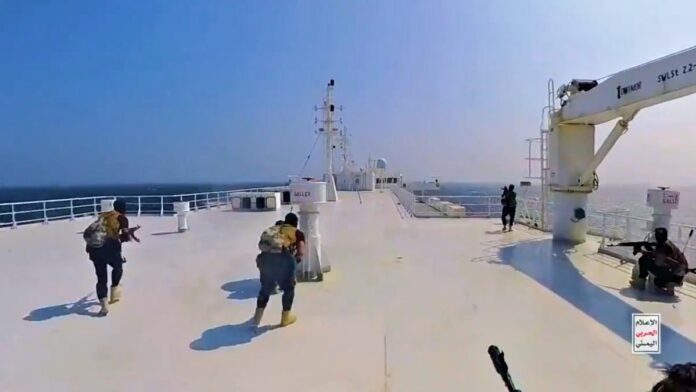 New Delhi: A cargo ship that was traveling from Turkey to India was seized by Yemen's Houthi rebels on Sunday, who claimed that it was an Israeli vessel and threatened more attacks in retaliation for Israel's offensive in Gaza. The hijacking was captured in a video that showed the rebels landing on the ship's deck from a helicopter, firing shots, and taking over the control room.
The video, which was released by the Houthi-affiliated Al Masirah TV, showed some of the crew members raising their hands in surrender, while others were seen hiding behind containers. The rebels shouted slogans and waved flags as they stormed the ship, which was identified as the Galaxy Leader.
The ship, which was flying the Bahamas flag, was carrying about 25 crew members from different countries, according to media reports. It is owned by a British company, which is linked to Israeli tycoon Abraham 'Rami' Unger. At the time of the hijacking, the ship was leased to a Japanese company.
The Houthi spokesman Mohammed Abdul-Salaam said in a statement posted on Twitter that the hijacking was 'only the beginning' and that more maritime attacks would continue until Israel halts its Gaza campaign. He accused Israel of being an 'enemy of the Yemeni people' and a 'partner of the Saudi-led coalition' that has been fighting the Houthis since 2015.
Israel strongly condemned the attack and blamed Iran for supporting the Houthis. A post on Twitter from the office of Israeli Prime Minister Benjamin Netanyahu said, 'Israel strongly condemns the Iranian attack against an international ship.' There is a leap in Iran's aggression against citizens of the free world, with international consequences regarding the security of the lane.' Iran has denied the allegations.
The ship has been taken to the Yemeni port of Salif in Hodeida province, where the Houthis control the coast, according to maritime security company Ambre and a Yemeni maritime source. The fate of the crew members is unknown. The incident has raised concerns over the safety of the shipping lanes in the Red Sea and the Gulf of Aden, where the Houthis have previously targeted oil tankers and military vessels.