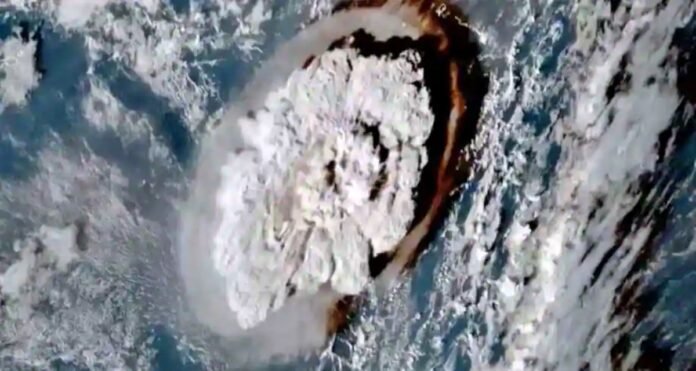 Wellington: Tonga issued a tsunami warning on Saturday after an underwater volcano erupted. Videos posted on social media showed huge waves crossing the shores in coastal areas. Tonga Meteorological Services said a tsunami warning has been issued for the whole of Tonga. Tonga's Hunga Tonga Volcano erupted on Saturday as part of a series of volcanic eruptions on Hunga Hapai Island. A Twitter user by the name of Dr. Fakailoetonga Taumoefolau has shared a video in which the waves are seen breaking through the edges.
He wrote, "I can actually hear the sound of the volcano erupting, it sounds so fierce." He wrote, "Ashes and small pebbles are raining down, the sky is dark."
Earlier, the Matangi Tonga news site reported that scientists observed massive eruptions, thunder, and lightning after the volcano became active early Friday. Satellite images showed a five-kilometer-wide layer of ash, steam, and gas rising about 20 kilometers (12 mi) into the air, the site said.
At the same time, officials in New Zealand, located more than 2,300 kilometers (1,400 mi) away, are warning of a storm due to the explosion. The National Emergency Management Agency said "strong and unusual waves could be accompanied by unexpected surges" off the coast in parts of New Zealand following a major volcanic eruption.