Solomon Islands: Protesters set fire to a parliament building and a police station on Wednesday on the Solomon Islands in the Pacific Ocean. These protesters were demanding the removal of the Prime Minister (Protest in the Solomon Islands). In view of the heavy violence and looting, the police had to fire tear gas shells and use rubber bullets. At the same time, the capital Honiara has been locked down for 36 hours to control the situation.
Protesters have looted many shops, due to which there is huge tension in the country. Prime Minister Manasseh Sogaware in his address to the nation late on Wednesday announced a lockdown in the capital.
It is being told that the people of Malta, the most populous island of this archipelago, reached the capital and expressed their anger on many domestic issues. It also includes the non-fulfillment of many promises of infrastructure improvement. The people of Malta also expressed displeasure over being left behind in the race for development. In recent times, this country has also come close to China.
The Solomon Islands broke ties with Taiwan in 2019 and formalized relations with China. Since then he has been facing a lot of pressure. Prime Minister Sogaware said that our country has seen another sad and unfortunate incident, in which an attempt has been made to topple a democratically elected government.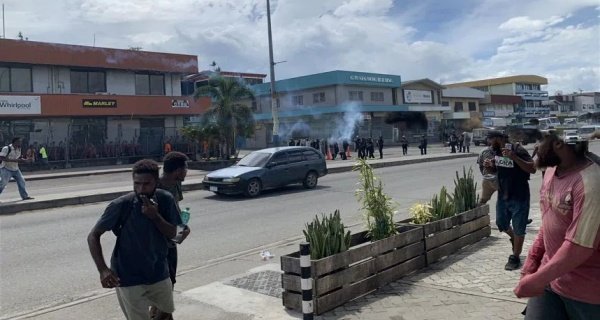 PM Sogaware said that I thought that the worst days of history have passed but today's incident is a reminder that we have a long way to go. He said that this lockdown will last till 7 am on Friday. It has been told that during this time those who committed violence will be searched and efforts will be made to ensure that this does not happen in the future. It is being told that the shop of a Chinese person has also been looted.
The Royal Solomon Islands Police Force (RSIPF) has urged people running schools and shops around Honiara to stay indoors to avoid violence outside. RSIPF deputy commissioner Juanita Matanga said in a statement, "We want to ensure that our roads, schools, and businesses reopen immediately after the lockdown."