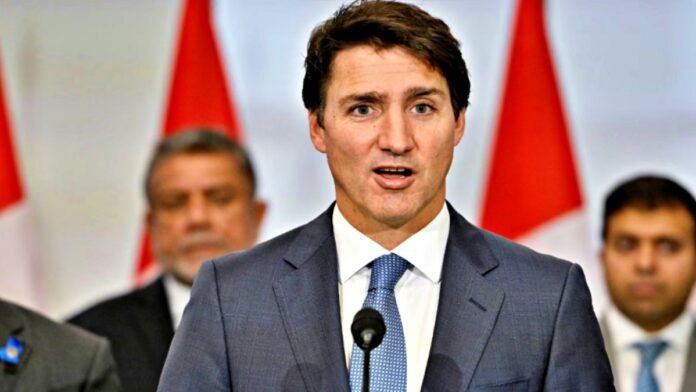 New Delhi: Canadian Prime Minister Justin Trudeau has launched a scathing attack on India for its alleged involvement in the assassination of a Khalistani terrorist in Canada. He said that India's actions were a serious breach of international law and the sovereignty of a democratic country. He also said that he had contacted the US and other allies to take action on the matter.
Hardeep Singh Nijjar, 45, was the leader of the Khalistan Tiger Force, a banned terrorist group that seeks a separate Sikh state in India. He was one of India's most wanted terrorists, accused of several attacks and plots in India. He was shot dead outside a gurudwara in British Columbia, Canada in June. Trudeau claimed that there were credible allegations that agents of the Indian government had conducted surveillance on Canadian citizens and were involved in the murder.
Trudeau made these remarks while addressing the media at the launch of the nationwide smart energy grid. When asked if the US should intervene on behalf of Canada, he said, "We contacted India as soon as we became aware of credible allegations that agents of the Government of India on Canadian soil were conducting surveillance on Canadian citizens, involved in the murder. We asked them to work with us to get to the bottom of this matter.
"We also reached out to our friends and allies, such as the United States and others, to act on these serious violations of international law and the sovereignty of democracy," Trudeau added. "This is something we are taking very seriously, we will continue to work with all partners as law enforcement and investigative agencies continue to do their work."
Trudeau said that Canada was a country that always followed the law and respected the rights of others. He said that if big and powerful countries like India could break international law without any consequences, then the world would become more dangerous for everyone.
India has strongly denied the allegations made by Trudeau, calling them "absurd" and "motivated". India has also accused Canada of harbouring and supporting Khalistani separatists, who have been involved in violence and threats against Indian diplomats, premises, community and places of worship in Canada. India has warned Canada of the dangers of the nexus of such forces with organized crime, drug syndicates and human trafficking. India has said that Canada has not done enough to curb such activities on its soil.