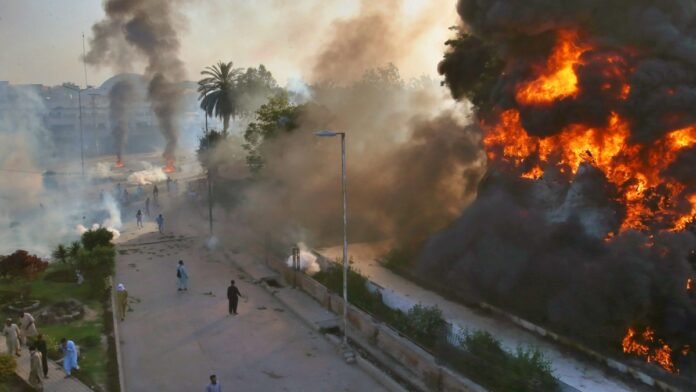 Islamabad: Former Pakistan Prime Minister Imran Khan was arrested by Pak Rangers on Tuesday from the courtroom itself and will be produced in the NAB court on Wednesday. Pakistan Tehreek-e-Insaf (PTI) chief Imran Khan has been detained in the Al Qadir Trust case, for which the National Accountability Bureau (NAB) has summoned him several times. Imran Khan is being taken to the NAB office in Rawalpindi. The former prime minister was in court to renew his bail when Rangers made the arrest at the request of the NAB. Section 144 has been implemented in the entire country.
Imran supporters attacked Pak Rangers in Lahore, many soldiers were beaten
Workers and supporters of his party have demonstrated on the streets regarding the arrest of former PM Imran Khan. During this, Pak Rangers lathi-charged the protesters in Lahore and fired tear gas shells, while the protesters also beat up many soldiers.
Peshawar's Radio Pakistan building set on fire
After the arrest of former PM Imran Khan, there is a lot of ruckus in Pakistan. The building of Radio Pakistan in Peshawar has been set on fire. The protesters have vandalized many places and blocked many roads. Demonstrations are also taking place by burning tires at many places.
Imran supporters attack Rawalpindi army headquarters, vandalism in many cities
Protesting against the arrest of Imran Khan, party workers, and supporters raided and ransacked the army headquarters in Rawalpindi, while party workers in several other cities raised slogans of Inquilab Zindabad. Rallies have been taken out at many places, while at some places the police lathi-charged the protesters.