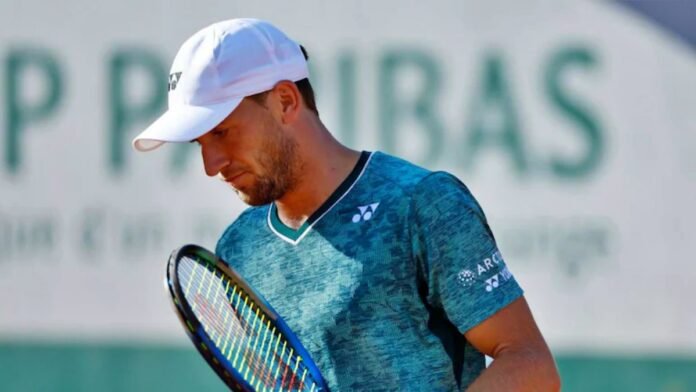 Paris: Casper Roode has become the first Norwegian player to reach a Grand Slam final. He defeated 2014 US Open champion Marin Cilic 3-6, 6-4, 6-2, 6-2 in the semi-finals of the French Open. Rood, seeded 8th, is 23 years old and has never advanced past the fourth round at a Grand Slam. His father was a professional tennis player from 1991 to 2001. Roode has won 66 matches and 7 titles on clay courts since the start of 2020. Now the toughest challenge of his career is in front of him. He takes on 13-time French Open champion Rafael Nadal in the final on Sunday. Rood practices at Nadal's Tennis Academy in Spain and considers him as his role model.
Earlier, Rafael Nadal got a place in the final due to the injury of Alexander Zverev. Zverev left the match after the second set due to a left leg injury. Nadal won the first set 7-6. Nadal won the French Open title for the first time at the age of 19. Earlier, he had been knocked out of the tournament by defeating No. 1 Novak Djokovic. Now Nadal is also the biggest contender to become the champion.
The game had to be stopped for 13 minutes
During the French Open semi-final between Casper Roode and Marin Cilic, an environmental activist entered the court and got down on her knee, tying herself to a net with metal wire. His t-shirt read, 'We Hatch 1028 Days Left (We have 1028 days left).' Due to this, the game was interrupted for about 13 minutes. The French Tennis Federation said in a statement issued after Roode's victory that a French girl had entered the court with a valid ticket. She remained on the court for several minutes, after which 4 security personnel took her out.
The federation said that the security personnel first investigated how she entered the court. He was taken out and handed over to the police. Tournament director Amelie Mauresmo was watching as she stood near the entrance of the court. During this both, of the players were taken to the secure locker room.