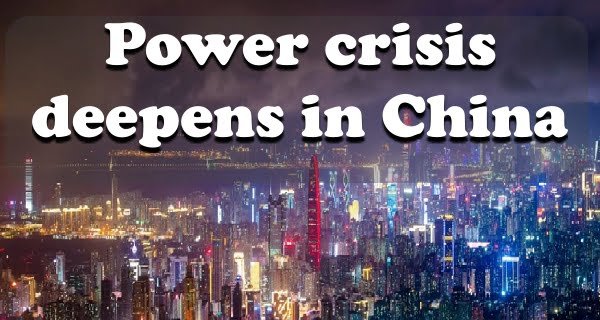 Beijing: China is facing a big electricity crisis these days. In the northeastern areas here, this crisis has become so deep that the work in the factories of many big companies has come to a standstill. Due to this many big companies were forced to reduce their production. The situation is that the production from mobile to the car has decreased. Due to this, there will also be a decrease in exports to foreign countries. The government is exploring all the options to deal with this crisis, although no way has been found so far.
Some ports in China were closed for a long time. In such a situation, the supply of coal could not meet the demand. This supply is still on hold and long waiting is going on at the ports to get coal. In such a situation, in many areas like Changchun, Zhejiang, the government has announced power cuts. Many malls, shops have been closed here and work in factories has to be stopped. There is a dark shadow in many houses. People have been forbidden from heating water in homes to using gadgets with high power. Many malls and shops have also been closed.
Many electronic gadgets around the world are supplied from China. Due to the power crisis, work has also stopped in companies like Apple, Tesla. In such a situation, it is expected to have an impact all over the world.
Many people buy a new mobile phone or electronic item on the occasion of New Year and Christmas. It is believed that due to the halt in production, the supply of parts of mobile phones and electronic items will be disrupted, which will have a huge impact on Asia and other western countries.
Apart from this, the supply of clothing, toys, and machine parts in the global market may also be affected. Experts say that more power cuts will affect the economic power stations, due to which economic crisis may arise in the coming days.
The impact of power shortage and a sharp decline in production can have a bad effect on China's economy. Global investment banking, securities, and investment management firm Goldman Sachs, which provides financial services, has lowered China's GDP growth forecast.
Goldman Sachs estimates that China's economy may grow at 7.8 percent in 2021 this year, compared to 8.2 percent earlier.