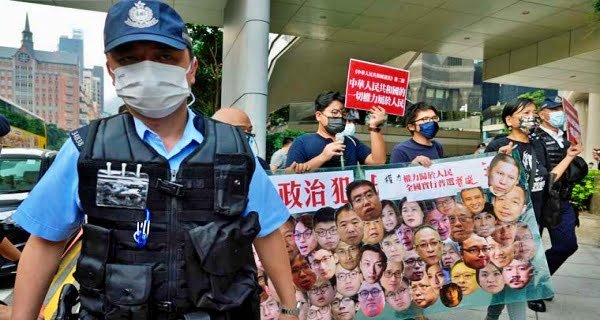 Hong Kong: Police in Hong Kong on Friday stopped a pro-democracy protest by four people on China's National Day. This is the latest example of action on freedom of expression and opposition politics.
Carrying placards demanding the release of arrested Hong Kong citizens and raising pro-democracy slogans, four members of the opposition League of Social Democrats tried to march towards the convention center where the official ceremony was taking place. police personnel was deployed to prevent any obstruction on China's National Day.
"I think Hong Kong is the only place in China where diverse views are allowed," party president Chan Po-ying told reporters. Chan said a large number of security forces had been deployed, but added, "Even under such pressure, we need to stick to our most basic civil rights, and that is the freedom of expression and assembly."
In Hong Kong since last year, several pro-democracy activists were arrested and some others left the country on their own, while electoral laws were amended to increase seats for pro-Beijing leaders. At the National Day celebrations, Hong Kong Chief Executive Officer Carrie Lam presided over the flag hoisting ceremony, which included officials from Hong Kong and China, and sang China's national anthem.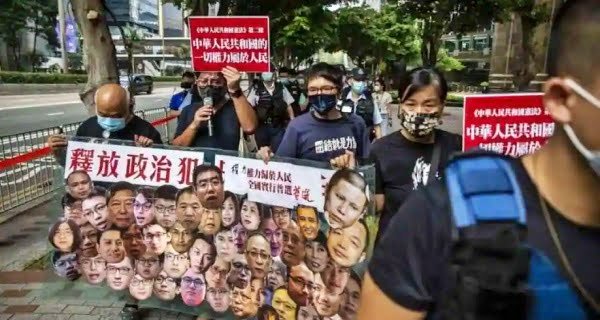 Lam praised the economy, the stable effect of the security law, and the central government's support for "reforms the electoral system", ignoring the US and other critics. US Secretary of State Antony Blinken sent a congratulatory message despite escalating tensions between Beijing and Washington.
"While the United States calls for all of us to work together to solve the challenges we face, we wish the Chinese people peace, happiness, and prosperity in the years to come," the message said. " A large number of people gathered to watch the flag hoisting ceremony in Tiananmen Square and other cities of the country on the mainland of China.