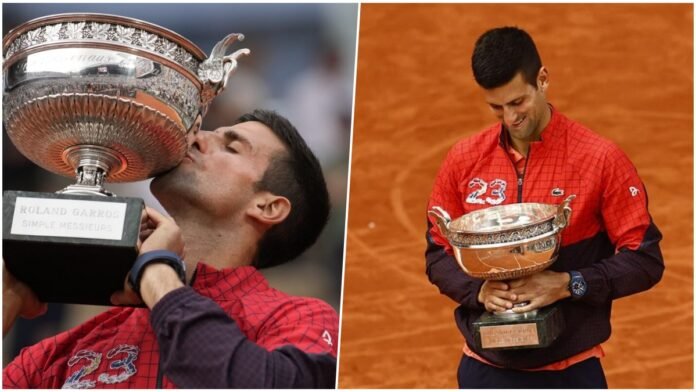 Paris: Novak Djokovic has become the first male player to win the most Grand Slam titles in the history of tennis. He overtook 22-time Grand Slam champion Rafael Nadal after defeating Caspar Rude in the French Open final on Sunday. Djokovic, 36, of Serbia, won 7.6, 6.3, 7.5 in a match that lasted three hours and 13 minutes. He is one title ahead of Nadal and three titles ahead of Roger Federer, who has now retired from tennis.
Nadal, the 14-time champion at Roland Garros, was not playing this time due to injury. Djokovic has also won the title here in 2016 and 2021. He became the first player in the history of tennis to win each Grand Slam at least three times. He has won ten Australian Opens, seven Wimbledon and three US Opens. He is once again on his way to winning all the Grand Slams in a calendar year. Rod Laver did this feat in 1969, and no one could repeat it after that.
Djokovic earned his men's-record 23rd Grand Slam singles championship, breaking a tie with Nadal and moving three in front of the retired Federer, with a 7-6 (1), 6-3, 7-5 victory over Ruud that really was not in doubt for most of its 3 hours, 13 minutes.
Djokovic, a 36-year-old from Serbia, puts this one alongside the French Open titles he earned in 2016 and 2021, making him the only man with at least three from each major event. He has won 10 trophies at the Australian Open, seven at Wimbledon, and three at the U.S. Open.
Djokovic came close in 2021 by winning the Australian Open, French Open, and Wimbledon but lost to Daniil Medvedev in the US Open final. Wimbledon will be played at the All England Club from July 3.
Djokovic could not play in the Australian Open and the US Open due to not getting vaccinated during the Corona epidemic. With this title, Djokovic also equaled 23-time Grand Slam champion Serena Williams, who retired from tennis last year. Margaret Court has won 24 titles in the amateur era but Djokovic and Serena lead in the open era.