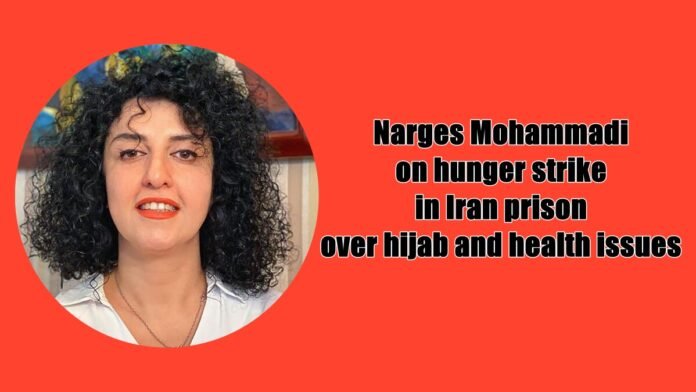 Dubai: Narges Mohammadi, the Iranian human rights activist who won the Nobel Peace Prize in 2023, has started a hunger strike in Evin prison in Tehran, where she is serving a 16-year sentence for her campaign against the death penalty and the oppression of women in Iran. According to a campaign called "Free Mohammadi", the Nobel laureate informed her family through a message that she began the hunger strike on Monday to protest against the conditions of her imprisonment and the mandatory wearing of hijab by women in the Islamic republic.
The campaign said that Mohammadi and her lawyers have been requesting for weeks to transfer her to a hospital with specialist doctors for heart and lung care, but their pleas have been ignored by the authorities. The campaign did not specify what complications Mohammadi was suffering from, but it mentioned that she had received an echocardiogram of her heart. The Iranian government media has not reported on Mohammadi's hunger strike.
Mohammadi, 51, has been a vocal advocate for human rights and democracy in Iran, despite facing several arrests and years in prison. She is the vice president of the Defenders of Human Rights Center, headed by her fellow Nobel Peace Prize laureate, Shirin Ebadi. In 2016, she was sentenced to 16 years in prison for establishing and running "a human rights movement that campaigns for the abolition of the death penalty". She was released in 2020 but sent back to prison in 2021, where she has since given reports of the abuse and solitary confinement of detained women.
In October 2023, while in prison, she was awarded the Nobel Peace Prize "for her fight against the oppression of women in Iran and her fight to promote human rights and freedom for all". The award came after a year of massive protests in Iran following the death of Mahsa Jina Amini, a young Kurdish woman who was killed in the custody of the Iranian morality police for refusing to wear a hijab. Under the slogan "Woman – Life – Freedom", hundreds of thousands of Iranians took part in peaceful demonstrations against the authorities' brutality and oppression of women. The regime cracked down hard on the protests: more than 500 demonstrators were killed, thousands were injured and at least 20,000 people were arrested and held in regime custody. The Ministry of Foreign Affairs of Iran condemned the decision to award Mohammadi.