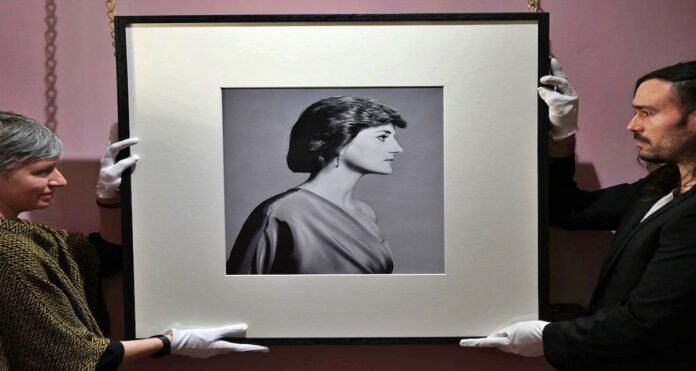 London: A never-before-seen photo of Princess Diana has been made public for the first time. This rare photo of the late Princess Diana has become public almost 34 years after she was taken. A 1988 photo of Princess Diana was first made public, two months after three new photos were released on Kate Middleton's 40th birthday. Since then, Kate Middleton has been compared to Princess Diana. It is clear from this that the legacy of Princess Diana is still alive in the minds of the people.
This never-before-seen portrait of the late Princess Diana of Wales is on display in a new exhibition titled 'Life Through a Royal Lens' at Kensington Palace in London. This simple yet elegant, black and white photo was placed before the public on 4 March. Diana was about 27 years old when this photo was taken. In this photo, Princess Diana is wearing an off-the-shoulder gown and teardrop earrings.
This picture was taken in 1988
This photo was taken by David Bailey in 1988. They famously photographed many pop culture icons including Andy Warhol, Twiggy, and The Beatles. It is said that fashion photographer David Bailey was chosen by Princess Diana herself for this work. Significantly, Princess Diana died in an accident in 1997.
According to a press release from Historic Royal Palaces, Princess Diana's decision to have David photographed reflects her desire to establish a new photographic identity for herself. Which is quite different from the royal paintings drawn in the past.
The comparison of this photo, which remained with the photographer till now, started very fast with the photo of Kate Middleton. On whose 40th birthday in January, Kensington Palace released three new photos. In one of the photos, Kate can be seen with three children and Princess Diana's eldest son, Prince William. She is wearing a white dress and diamond and pearl drop earrings, which were earlier with her mother-in-law.
These photos were taken by Paolo Rovers at Kew Gardens in London last November and will be included in the permanent collection of the National Portrait Gallery, of which Kate is a patron. Kate is already shouldering the heavy responsibility of following in the footsteps of a big personality like Diana. Shortly after her engagement to William in 2010, she told journalist Tom Bradby that "I'd obviously love to meet her and she's clearly an inspirational woman."