Islamabad: A team of Nepali Climbers made history on Saturday by conquering the world's second-highest mountain peak 'K2 ′ (K2 Mountain) in the winter season. An official of the local upline club gave this information. This mountain peak is located in the part of Himalayan in Pakistan. Its height is 8,611 meters (28,251 ft). 'K2' is the second highest mountain peak after Mount Everest, the world's highest mountain peak.
Pakistan's Alpine Club secretary K.K. Hydari said that a team of 10 Nepali Sherpas reached the summit (K2) at around 5 pm. In winter, winds of more than 200 kilometers per hour are carried on 'K2' and the temperature goes down to minus 60 degrees Celsius. Hydari said that no one had achieved this feat in the winter before. He told that about a month ago four international teams of climbers came to visit K2.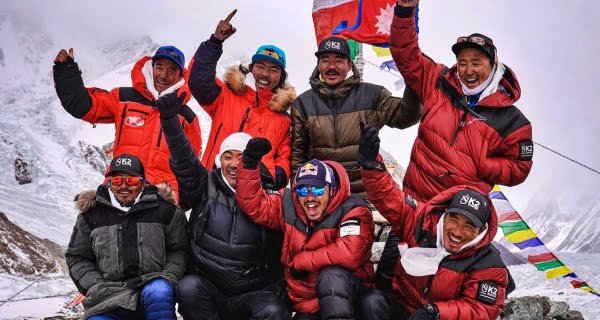 Hydari said that out of these teams, the 10-member team of Nepal succeeded in winning 'K2'. In 1988, an attempt was made to reach 'K2' in winter. It is located in the Karakoram range bordering Pakistan with China. Hydari said that no climber had been able to go above 7,750 meters before now, but the clear weather on Saturday played an important role in the success of the Nepalese team.