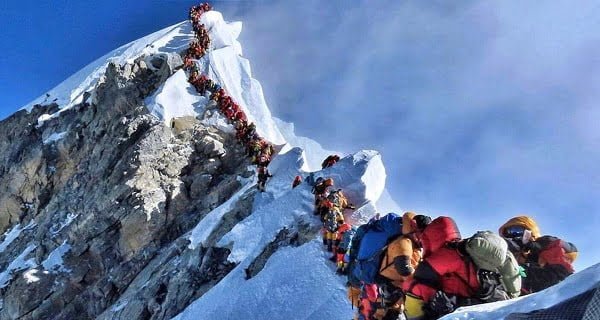 Kathmandu: Coronavirus has spread its feet even on Mount Everest, the world's highest peak. According to a mountaineering expert, at least 100 climbers and allies have been found infected with Covid-19, although Nepal authorities have denied it. Lukas Furtenbach of Austria was the only major climber to stop his Everest expedition last week due to fear of the virus. He said on Saturday that his foreign guide and six Nepali Sherpa guides have tested positive.
Fartenbach told the Associated Press in Kathmandu, the capital of Nepal, "We now know all the confirmed cases." This has been confirmed by rescue teams, insurance companies, doctors, people involved in mountaineering. I have a list of positive detected cases, so we can prove it. "He said," We have a list of at least 100 such people who have been found positive for Covid in the base camp. This number may be closer to 150 or 200. "
Fartenbach said that there were many cases at the Everest base camp because they themselves saw people sick and heard people coughing from inside their tents. In this session, a total of 408 foreign climbers were allowed to climb Everest. He is also accompanied by hundreds of Sherpas and allied personnel who have been staying in the base camp since April. Officials associated with Nepal's mountaineering department have, however, denied any active case of climbers and allies in the base camp in this session. Mountaineering was banned last year due to the epidemic.