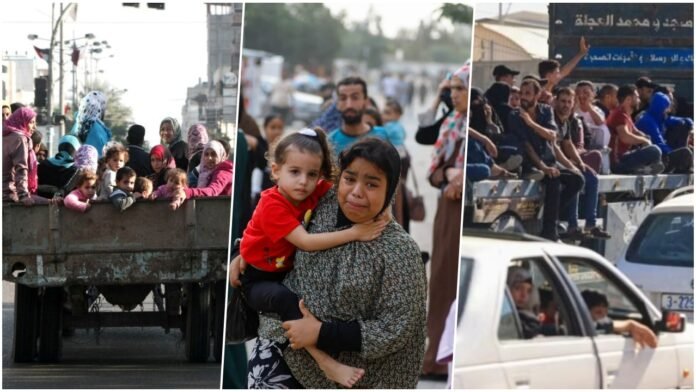 Gaza City: Israel has escalated its military campaign against the Palestinian militant group Hamas by launching a ground operation in the Gaza Strip. The Israeli army said it was targeting Hamas' tunnels and bunkers, where it said the militants were hiding and storing weapons. The ground offensive came after Israel warned 1.1 million Palestinians in northern Gaza to evacuate their homes within 24 hours or face the risk of being caught in the crossfire.
However, Hamas urged the residents to stay put and resist the Israeli "occupation". The group also threatened to execute some of the Israeli hostages it had captured during its raids on southern Israel last week if Israel attacked civilians in Gaza without warning. Hamas said it had taken more than 100 hostages, including women and children, to various locations in Gaza. Israel said it had rescued 250 hostages, but confirmed that 27 Americans were among those still held by Hamas.
The United Nations expressed alarm over the mass displacement of Palestinians in such a short time span, saying it would have devastating humanitarian consequences. The UN said more than 423,000 people in Gaza had been forced to flee their homes due to the Israeli bombardment, which has killed more than 1,500 people so far. Many Palestinians were seen leaving Gaza City and other areas in cars, trucks, and carts, carrying blankets, food, and other belongings. Hamas claimed that Israel had killed 70 people in an airstrike on a convoy of fleeing civilians.
Israel's Defense Minister Yoav Galant said the ground operation was aimed at destroying Hamas' terrorist capabilities and restoring security for all Israeli citizens. He said Hamas had embedded itself among the civilian population and used buildings and tunnels as bases for attacks. He said Israel was responsible for the well-being of the hostages and would "settle the score with anyone who harms them".
Meanwhile, Hamas continued to fire rockets at Israel in response to the ground invasion. The group said it had launched 150 rockets in 15 minutes at Ashkelon, a city in southern Israel. Israel's Iron Dome system intercepted most of the rockets, but some hit residential areas, causing damage and injuries. Israel has also faced international criticism for its airstrikes on Gaza, which have hit media offices, hospitals, schools, and mosques.
The conflict between Israel and Hamas erupted on October 7, when Hamas launched a surprise attack on southern Israel, killing more than 1,300 people and kidnapping dozens more. Hamas said it was avenging Israel's oppression of the Palestinians and its plans to annex parts of the West Bank. Israel said it was defending itself from a terrorist assault and vowed to retaliate with full force.
The war has also sparked protests and solidarity rallies across the Middle East and beyond, with thousands of Muslims demonstrating against Israel after Friday prayers. Some protesters burned Israeli flags and chanted slogans against Israel and the US, which supports Israel diplomatically and militarily.