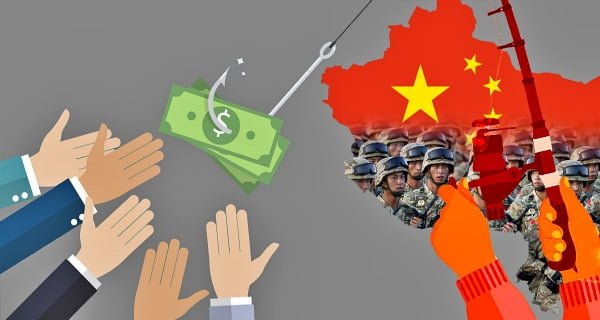 Beijing: China spends almost twice as much money on development works at the global level as compared to America and many other major countries of the world. The Belt and Road Project of China has now become the project in the world on which the maximum amount has been spent. A recent study published about China's spending is surprising. According to the study report, the ambitious project 'Belt and Road' of Chinese President Xi Jinping has now become a trap through which many small countries of the world have been trapped in the maze of debt.
According to the Aid Data Research Lab at William and Mary University of Virginia in the US, over a period of 18 years, China has invested about $843 billion in 13,427 projects in 165 countries, either as investments or Then given as a loan.
Under the Belt and Road Project, many projects of China are going on abroad. Under its guise, China has given loans of up to $385 billion to poor countries. Along with this, now the shadow of corruption and protests has also started falling on this project.
The deal is done at a high interest rate
According to this research, under Jinping's favorite project, big deals were completed with state banks and companies of many countries. As a result, the governments of low-income poor countries have fallen into such a debt trap, from which it is very difficult to get out. Most of these funds are taken from the state banks of the countries in the form of loans at the risk of high-interest rates.
The government keeps complete information
Researchers have spent four years collecting information on all types of debt, expenses, and investments in China. He says that the ministries of the Chinese government regularly keep information about how Chinese money is being used abroad.
How Laos Caught
Brad Parks, executive director of Aid data, explains, "We hear officials in China all the time saying, 'Look, this is the only option.' ' is considered a prime example of lending.
According to the report, for decades, politicians have been thinking of building such a relationship as to how to directly link South-West China with Southeast Asia. Although engineers have already warned that the cost would be too high, tracks would have to be built in steep hills, hundreds of bridges and tunnels would have to be built.
Had to take a loan from a Chinese bank
Laos is one of the poorest countries in the region and cannot afford even a part of the cost of the project. Despite this, the railway, built for $ 5.9 billion with the backing of a consortium of aspiring bankers and lenders from China, will start in December.
Laos had to pay, but less well, under its share. But to pay its share, Laos had to take a loan of $ 480 million from a Chinese bank. Laos earns money from potash mines etc. A large part of the profits from these mines went to repay the loan to China.
In September 2020, Laos was on the verge of bankruptcy. In such a situation, to deal with this situation, Laos sold a huge asset to China. Laos handed over a part of its power grid for $600 million to seek debt relief from Chinese creditors. AID data says that China is in the role of financier for many poor and middle-income countries.