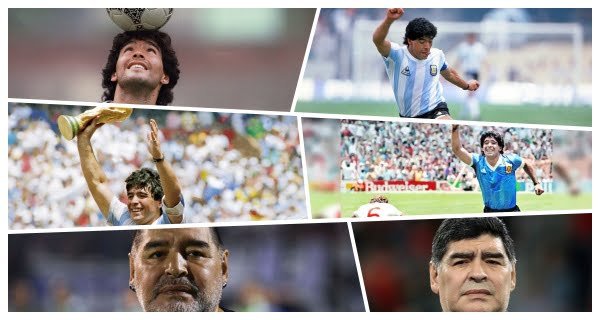 Buenos Aires: One of the world's greatest footballers, Diego Maradona, the hero of Argentina's 1986 World Cup victory, died on Wednesday. Along with Pel 60, Maradona, who is counted among the best footballers in the world, was 60 years old. For a long time, he had been battling cocaine addiction and obesity. Three days of national mourning have been declared in Argentina.
The news has caused a wave of mourning among football fans around the world and tributes are being paid to this great footballer on social media. He was discharged from the hospital two weeks ago after undergoing brain surgery.
Maradona, who made his name in football legends due to his 'hand of God' goal in the quarter-final against England in the 1986 World Cup, has been in the spotlight of football fans for more than two decades in his career. His addiction and failure with the national team damaged his reputation but he remained a 'golden boy' for football fans.
Maradona's death has caused a wave of mourning among his fans around the world. Everyone is tweeting and paying tribute to him.
My heroes are no more
Indian Cricket Board president and former cricketer Saurabh Ganguly tweeted, "My heroes are no more, my genius, I saw football for you."
Say goodbye to a friend
Portugal footballer Cristiano Ronaldo said, "Today I say goodbye to a friend and the world says goodbye to an eternal genius, a unique magician. The best so far. . He left very quickly, but left his boundless legacy, a void that will never be filled. You will never be forgotten.
Cristiano Ronaldo (ristCristiano) November 25, 2020 The great footballer Diego Maradona celebrated his 60th birthday on October 30. Addressing the media at the birthday party, he said that his aspiration was to score another goal against England but this time with the right hand.
The great Argentine footballer scored a left-handed goal in the 1986 World Cup quarter-finals, the most famous and infamous being called the 'Hand of God'. "My dream is to score another goal against England," Maradona said in an interview with a French football magazine. This time with the right hand.
Maradona, 60, who came in contact with a corona-infected person, had been in isolation for about a month. He was discharged from the hospital two weeks ago. He was then admitted for brain surgery.
According to reports, Maradona, who has been ill for a long time, was discharged from the hospital on November 11 after brain surgery. He was due to be discharged at 6 p.m. that day, but Maradona left home early, as thousands of his fans flocked to the streets to catch a glimpse.
Maradona scored that goal against England when he was 26 years old. Argentina won the match 2-1 and won the World Cup. Four years later, the team lost to West Germany in the World Cup final in Italy.
Diego Maradona has been called the greatest footballer of all time. He was instrumental in helping Argentina win the 1986 FIFA World Cup. Maradona entered the world of football in 1976. A decade later, under his captaincy, Argentina won the 1986 World Cup. During this time he scored memorable goals in the history of the game.
The stature of this great football player can be gauged from the fact that his country has a 9 feet high statue in Buenos Aires, Argentina. The first bronze statue of Diego Maradona was unveiled in 2018 to celebrate his 58th birthday.
This statue of Maradona depicts his goal against England, which was voted the best goal of the 20th century. The statue is located near the Argentinos Juniors Club Stadium in Buenos Aires. Maradona entered the world of football from here in 1976.
Maradona played football for clubs such as Boca Juniors, Napoli, Barcelona. He has millions of followers worldwide.