United Nations: On Tuesday, Turkish President Recep Tayyip Erdogan addressed the world leaders at the high-level 78th session of the United Nations General Assembly (UNGA) and raised the issue of Kashmir, which has been a source of tension between India and Pakistan for decades. He said that the two countries should resolve their dispute through dialogue and cooperation, and establish a just and lasting peace in the region.
Erdogan said, 'The way to peace, stability, and prosperity in South Asia can be paved by establishing a just and lasting peace in Kashmir through dialogue and cooperation between India and Pakistan. Turkey will continue to support the steps taken in this direction.' He also praised India for its role in the United Nations Security Council, where it is currently serving as a non-permanent member. He said that he supports the reform of the Security Council to make it more representative and inclusive, with five permanent and 15 non-permanent members.
Erdogan's remarks came after he met Prime Minister Narendra Modi on the sidelines of the G20 summit in New Delhi a few weeks ago, where they discussed ways to enhance bilateral ties in trade and infrastructure sectors. However, his repeated mention of Kashmir in his UN speeches has irked India, which considers it an internal matter and a bilateral issue with Pakistan.
Erdogan had also referred to Jammu and Kashmir in his pre-recorded video statement at the UNGA session last year. India had strongly rejected his comments as 'completely unacceptable' and advised Turkey to respect the sovereignty and territorial integrity of other countries and refrain from interfering in their internal affairs.
He said in his speech on Tuesday, 'India and Pakistan have not maintained peace and harmony among themselves even after achieving sovereignty and independence 75 years ago. This is quite unfortunate. We hope and pray that just and lasting peace and prosperity is established in Kashmir.'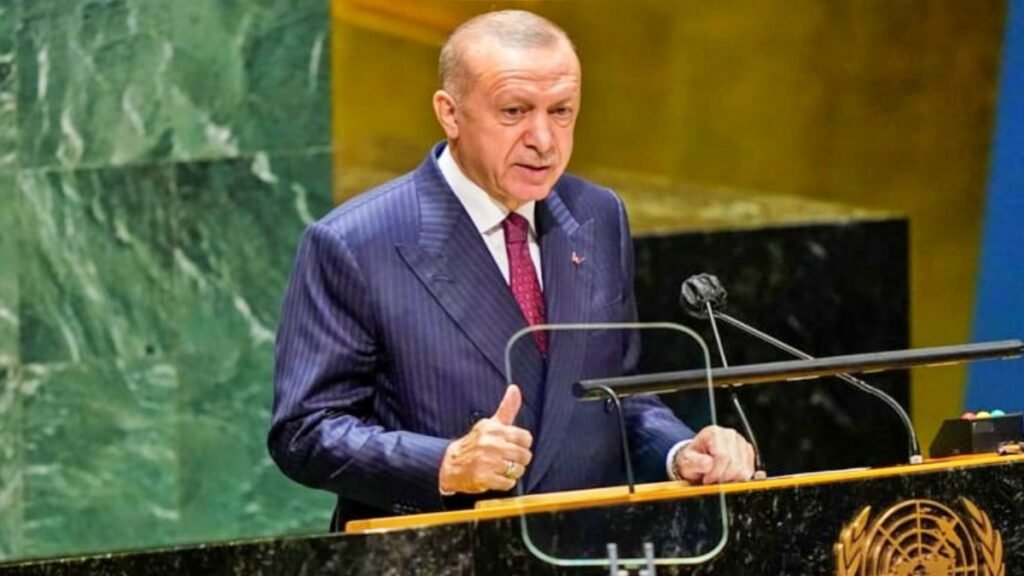 Erdogan has been vocal about his support for Pakistan on the Kashmir issue, especially after India revoked the special status of Jammu and Kashmir in 2019 and bifurcated it into two union territories. He has also tried to internationalize the issue by raising it at various forums, such as the Organisation of Islamic Cooperation (OIC) and the UN Human Rights Council (UNHRC). However, his stance has not found much support from other countries, which have largely maintained that India and Pakistan should resolve their differences through peaceful dialogue.