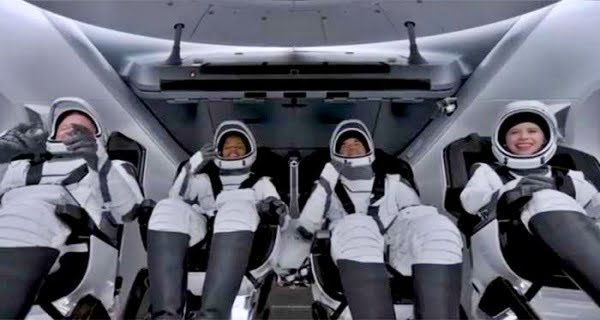 Washington: Elon Musk's company SpaceX has also created the greatest history in the field of space. In fact, SpaceX has also launched the Inspiration 4 mission on Wednesday night (5.32 am Indian time) with the world's first all-civilian crew. According to the news, these 4 space tourists will now stay in the orbit of the Earth 575 km above for 3 days. Yes, they have been sent to distant space with the help of Falcon 9 rocket by boarding the Dragon capsule. The most interesting thing about this mission is that there are no professional astronauts in its crew.
A great private space mission
It is worth noting that even though this mission was launched from NASA's launch center, but its entire relationship is with SpaceX instead of NASA. Let us tell you that this is the company's first completely private human space flight. Let us also tell you that billionaire customer Jared Isaacman has rented the Crew Dragon capsule directly from the rocket company. As of now, Isaacman has not disclosed how much he paid for it. But it is being said that the total expenditure has come to less than $ 200 million.
Interesting flight 355 miles above the earth
In this regard, SpaceX owner Elon Musk says that as long as it is safe, Jared can do whatever he wants. Let us tell you that Musk had announced this important and big mission in February last. Isaacman has decided to fly for three days for the time being and go 355 miles above the ground. It is also interesting that after 2009, no human has traveled to this distance in space.
Isaacman will have a great view from the bathroom
According to the program, this group will go to a higher altitude than the International Space Station and will take a view of this view for three days. During this, some science experiments will also be done here. Apart from Iceman, Physician-Assistant Haley Arsenau, Air Force Engineer Chris Sambrowski and Scientist Dr. Sion Proctor are also with them. At the same time, if the reports are to be believed, the bathroom of this spaceship will be on the roof and from here you will get to see a spectacular and panoramic view or view.
Who is on this flight
38-year-old Jared Isaacman is leading this fine flight. He is the Executive Manager of Shift4 Payments Inc. In addition to them are cancer-recovered Hayley Arsinaux (29), sweepstakes winner Chris Sambrowski (42), and Sean Proctor, 51, a community college teacher in Arizona. Arsinaux is the youngest American to go to space, as well as the first person to go into space with a prosthesis. A titanium rod is lying in his left leg. SpaceX's 'Crew Dragon capsule' carrying four people left for space on Thursday morning from 'Kennedy Space Center' in Florida, US.