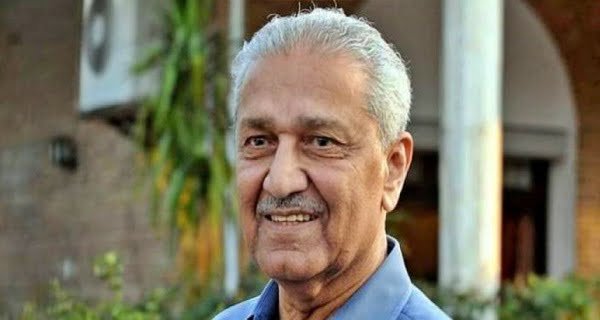 Rawalpindi: Dr. Abdul Qadeer Khan, the father, and scientist of Pakistan's nuclear program, has passed away. 85-year-old Dr. Khan was admitted to the Research Laboratories Hospital on August 26 after being infected with Covid. After this, he was admitted to an army hospital in Rawalpindi. According to Pakistani media, earlier he was put on a ventilator due to increasing infection.
Was born in Bhopal
Dr. Qadir was born in Bhopal city of undivided India. After the partition of Pakistan in 1947, Dr. Khan came to Pakistan with his entire family. An engineer by profession, Khan has worked for more than a decade in the technology of making nuclear bombs, enrichment of uranium to make missiles, trading of missile components and parts.
Dr. Khan, who had studied and worked in the field of nuclear energy for years in Europe, also knew how to make missiles. He was accused of giving information about nuclear technology to Libya, North Korea, and Iran. He emerged as an important name in the nuclear program of these countries.
In one round, he had become the most powerful person in Pakistan. His pictures were seen on the walls of schools, his pictures were seen on posters in the streets and alleys. He was also awarded the Nishan-e-Imtiaz, Pakistan's highest civilian award, twice in 1996 and 1999.
Agreed to sell technology
Dr. Khan was at the center of the global nuclear proliferation scandal in 2004. He was accused of spreading nuclear material. For this, the former army chief of Pakistan and President Pervez Musharraf had also pointed fingers at him. In a televised message, Dr. Khan also admitted to selling nuclear technology to Iran, North Korea, and Libya. But later he backed out of it. In 2008, Dr. Khan had said in an interview to the British newspaper 'The Guardian' that he was under pressure from President Musharraf, that is why he had talked about selling.