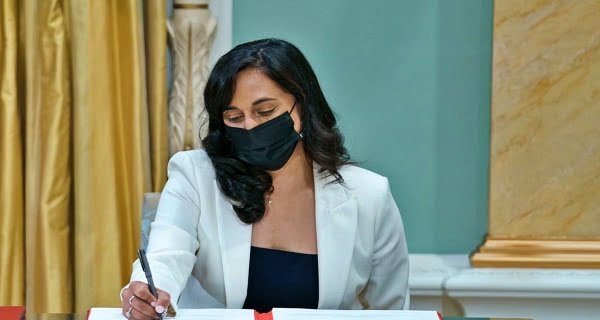 Toronto: Canada's first Hindu cabinet minister Anita Anand on Tuesday created history by becoming the country's second woman defense minister. She will replace Harjit Sajjan, a Canadian citizen of Indian origin. Prime Minister Justin Trudeau has announced his new cabinet, in which it has been learned that Anita Anand will be the Defense Minister of the country.
Prior to Anita Anand, Canada's only female defense minister was former Prime Minister Kim Campbell, who held the portfolio for six months from January 4 to June 25 in 1993.
Sajjan has been made Minister of International Affairs. Besides her, another Indo-Canadian woman Kamal Kheda, a 32-year-old MP from Brampton West, was also sworn in as a minister for senior citizens, taking the number of Indian-Canadian women ministers in the Trudeau cabinet to three.
Bardish Chagar, the current Indian-Canadian women's minister who holds Canada's Diversity, Inclusion, and Youth Ministry, has been sacked. The new cabinet includes two Indian-Canadian women among the six women ministers. Trudeau downgraded Harjit Sajjan for failing to address allegations of sexual misconduct in the Canadian military and honored Anita Anand and Kamal Kheda for their work during the pandemic.
Anita was born in Nova Scotia in 1967 to Indian-origin parents, who were both medical professionals. His mother Saroj D. Ram from Punjab and his father S. V. Anand belongs to Tamil Nadu. Anita has also been a professor of law at the University of Toronto. In 2019, he was given the responsibility of Minister of Public Services and Procurement by Prime Minister Justin Trudeau.
Anita assisted the Air India Commission of Inquiry with extensive research. The commission had investigated the bombing of Air India Kanishka Flight 182 on 23 June 1985, in which all 329 people were killed. The bomb that exploded on a Montreal-Delhi flight was planted a year earlier in 1984 by Khalistanis based in Vancouver to avenge military action on the Golden Temple.