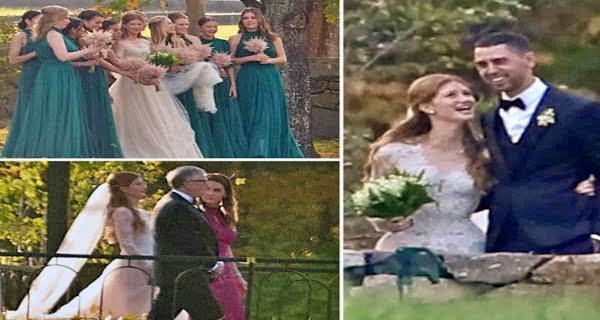 New Delhi: Jennifer Catherine Gates, the eldest daughter of Microsoft founder and billionaire entrepreneur Bill Gates and his ex-wife Melinda Gates, has married Nayel Nassar of Egypt. Nail Nassar is Jennifer's college senior and boyfriend. Both got engaged in January 2020. After the wedding of Jennifer and Nayal, a reception party was also held in New York on Saturday afternoon, in which about 300 guests arrived. Melinda Gates also came to the wedding. Let us tell you that Bill Gates and Melinda separated only in August 2021.
How much is the net worth of Jennifer and Nayal?
Jennifer's assets are more than Rs 150 crore. He is also going to inherit some of his father's property. Bill Gates announced in 2017 that his children Jennifer, Phoebe, and Rory would get Rs 75-75 crore. The rest of his money will be deposited in the family foundation. At the same time, Nail Nassar's parents are the owners of architecture and design firms. Nasser currently lives in California and is an Egyptian professional equestrian. He has participated in many big competitions. Nassar qualified for the International Federation for Equestrian Sports (FEI) World Cup finals in 2013, 2014, and 2017. Apart from this, he has also participated in the FEI World Equestrian Games 2014. He started his company in California in 2014 under the name Nassar Stables LLC.
The reception took place in North Salem, New York
Jennifer and Nassar's party was held at the 142-acre Horse Farm in North Salem, New York. According to media reports, the party cost $2 million (more than Rs 15 crore). After the reception, Bill Gates danced with Jennifer to Elton John's song 'Can You Feel the Love Tonight'. Jennifer wore a custom Vera Wang gown at the wedding. Jennifer was prepared by 9 bridesmaids together.
How did Jennifer and Nayal meet?
Bill Gates's eldest Getty Jennifer Gates and Egypt's Nayel Nassar are both equestrians. Both met and came close because of sports. The two first made their relationship public in 2017. Both have graduated from Stanford University. Jennifer took a one-year break after receiving a degree in Human Biology from Stanford University in 2018. Born on 26 April 1996, Jennifer is pursuing her Masters from the Icahn School of Medicine at Mount Sinai.