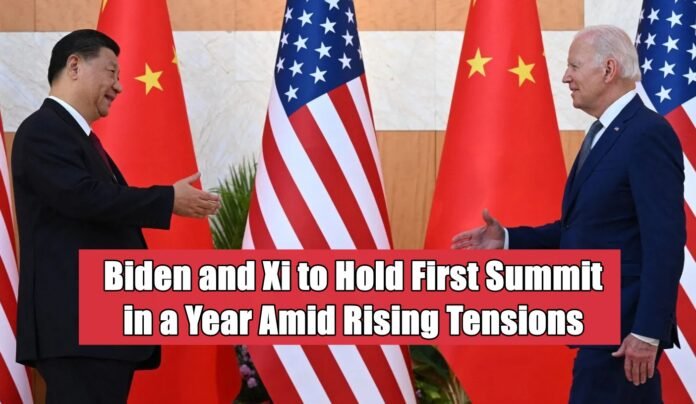 Washington: President Joe Biden and his Chinese counterpart Xi Jinping are expected to meet on November 15 in San Francisco, marking the first summit between the rival powers in a year. The meeting will take place on the sidelines of the Asia-Pacific Economic Cooperation Summit (APEC), which the US is hosting this year.
The summit comes amid rising tensions between the world's two largest economies over a range of issues, including trade, technology, human rights, and regional security. Both Washington and Beijing have not formally announced the date of the summit, but have made arrangements to hold it, according to a US official and a Washington-based diplomat who spoke to AFP.
The White House has expressed hope for a "constructive conversation" between the two leaders, who last met in person in November 2022 in Bali on the sidelines of a Group of 20 summit. Biden and Xi spoke positively about those talks, saying they were looking for ways to avoid conflict and cooperate on global challenges.
However, since then, the relations have deteriorated, with the US accusing China of conducting a surveillance balloon operation over US soil earlier this year, which China denied. China has also been angered by the US restrictions on its high-tech exports, which the US fears could be used for military purposes by Beijing.
The most sensitive issue between the two sides is Taiwan, the self-ruled island that China claims as its own and has not ruled out taking by force. China has stepped up its military pressure on Taiwan, conducting frequent air and naval drills near the island. The US, which is Taiwan's main security ally, has increased its support for Taiwan, including by sending high-level officials and lawmakers to visit the island.
The summit in San Francisco will be an opportunity for Biden and Xi to address these issues and try to find some common ground. However, the expectations for a breakthrough are low, as both sides have hardened their positions and rhetoric. The US has also been building alliances with other countries in the Indo-Pacific region and beyond to counter China's growing influence.
The summit will also test Biden's diplomatic skills, as he faces criticism from some quarters for his handling of the withdrawal from Afghanistan and the nuclear deal with Iran. Biden has said that he wants to compete with China, but also cooperate where possible, such as on climate change and the pandemic. Xi, on the other hand, has portrayed China as a confident and assertive power that will not bow to external pressure.
The summit will be closely watched by the international community, as the US-China relationship is seen as the most important and consequential one in the world. The outcome of the summit could have implications for the stability and prosperity of the region and the world.