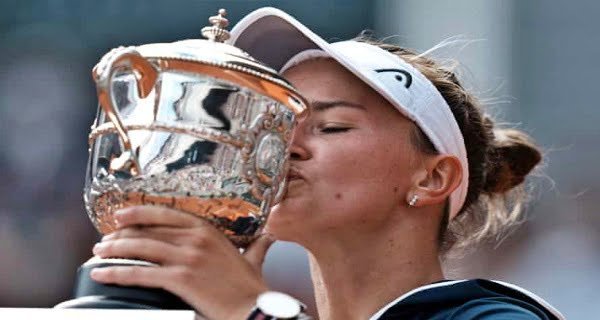 Paris: Czech Republic's unseeded player Barbara Krejcikova has won the French Open title. Barbora reached the final of a Grand Slam tournament for the first time. In the final, she defeated Russia's Anastasia Pavlyuchenkova 6-1, 2-6, 6-4 in a three-set match. The 29-year-old Russian player reached the final of a Grand Slam 14 years after her Grand Slam debut, but she could not win the title. The new player won the title for the sixth consecutive year in the women's section of the French Open. From 2016 only the new player is winning the title.
After 1981, the Czech Republic has got the title of French Open in the women's category. Last time Hana Mandlikova won the title here. World number-33 Barbora Krejcikova started well in the match and won the first set easily 6-1. But Anastasia Pavlyuchenkova made a comeback in the second set. Barbora Krejcikova won the final set 6-4 to capture the trophy. This match lasted for 1 hour 58 minutes.
Chance to win the double title
Barbora Krejcikova has also reached the final of women's doubles. She and Katrina Sinnikova will play this match on Sunday. Barbara won the 12th match in a row. When she entered the French Open 8 months ago, her ranking was 114. Then she was out after losing in the fourth round. On the other hand, Novak Djokovic of Serbia and Tsitsipas of Greece will clash in the men's final on Sunday. Djokovic broke his 21st Grand Slam title dream by defeating Spain's Rafael Nadal. Nadal has lost in the semi-finals here for the first time. Nadal and Roger Federer have won the most 20-20 titles in the men's category. Djokovic is second with 18 titles. They would like to get closer to Nadal and Federer by winning the title here.