Dhaka: Bangladesh witnessed a day of violence and chaos on Saturday as the main opposition Bangladesh Nationalist Party (BNP) and the ruling Awami League (AL) held rival rallies in the capital Dhaka. The BNP, led by former Prime Minister Khaleda Zia, demanded the resignation of Prime Minister Sheikh Hasina and the formation of a neutral caretaker government to oversee the next general election, expected in early 2024. The AL, led by Hasina, rejected the demand and accused the BNP of trying to create anarchy and sabotage the democratic process.
According to eyewitnesses and media reports, BNP supporters clashed with the police and paramilitary forces in several areas of Dhaka, setting fire to a police post, pelting stones at the chief justice's residence, and damaging several vehicles. The police and the Border Guard Bangladesh (BGB) responded with tear gas shells and baton charges to disperse the protesters. Several policemen and BNP activists were injured in the clashes. The BNP also alleged that some of its leaders and workers were detained by the police on their way to the rally.
The AL, meanwhile, held a "peace rally" at the south gate of Baitul Mukarram National Mosque, attracting thousands of its supporters. The rally was addressed by senior AL leaders, who praised Hasina's leadership and development achievements and slammed the BNP for resorting to violence and vandalism. They also claimed that the BNP was acting on behalf of foreign forces who wanted to destabilize Bangladesh.
The rival rallies disrupted traffic and business in most parts of Dhaka. Many shops and shopping complexes were closed due to fear of violence. The BNP called for a nationwide strike on Sunday, the first such protest in many years, against the police action and their attack on its workers. The AL urged its supporters to resist the strike and maintain normalcy.
The political situation in Bangladesh has been volatile since the controversial 2014 election, which was boycotted by the BNP and marred by violence and low turnout. The BNP has been demanding a return to the system of caretaker government, which was abolished by a constitutional amendment in 2011. The AL has refused to accept this demand, saying it is unconstitutional and unnecessary. The BNP has also been weakened by the imprisonment of its leader Khaleda Zia in a corruption case in 2018. The BNP says Zia's conviction was politically motivated.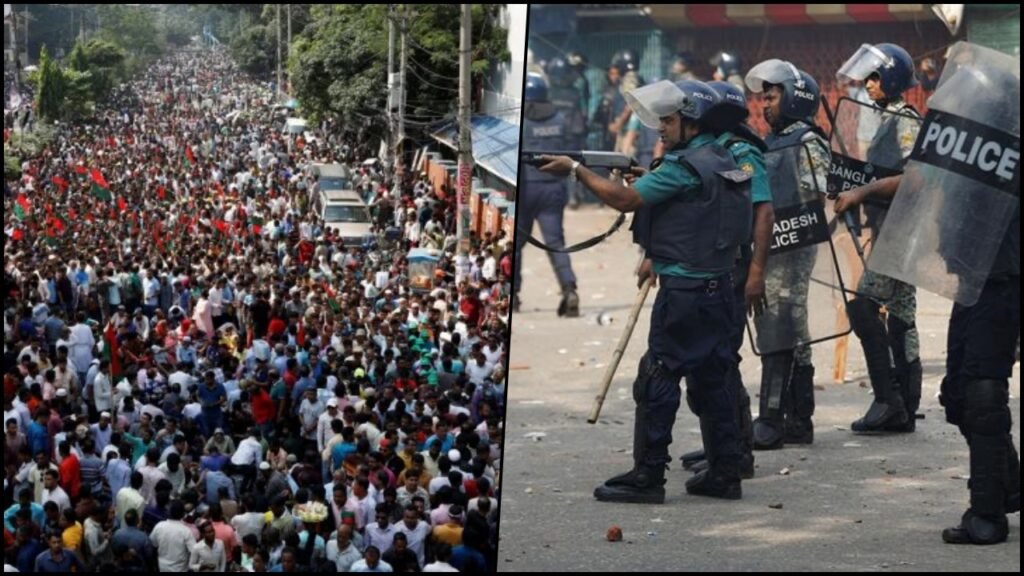 Bangladesh is a low-lying country that is vulnerable to flooding and cyclones. It is also facing the challenges of rising Islamist extremism, the COVID-19 pandemic, and economic slowdown. The country needs political stability and consensus to overcome these crises. However, the prospects of dialogue and compromise between the ruling and opposition parties seem bleak at the moment.