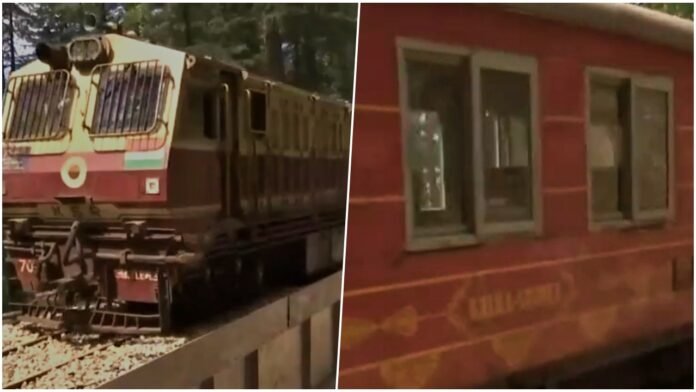 Kasauli: The World Heritage Kalka-Shimla Railway Track, which was severely damaged and disrupted due to heavy rains in Himachal Pradesh, has finally resumed operation after 84 days of suspension. The Railway Board, Ambala, has issued a regular timetable for the trains running on this track, which is effective from today i.e. October 3.
According to the timetable, four trains will run from Kalka to Shimla and from Shimla to Kalka in the first phase from October 3 to October 5. These trains are Himalayan Queen, Shivalik Deluxe Express, Rail Motor Car, and Shimla-Kalka Passenger. The Railway Board will issue orders for the operation of all trains after October 5. Till now, only one train was able to reach Tara Devi railway station from Kalka.
The Kalka-Shimla Railway Track, which is a UNESCO World Heritage Site, was built in 1903 and covers a distance of 96 km with 103 tunnels and 864 bridges. It is one of the most scenic and popular tourist attractions in the state. However, the track faced a major setback due to the torrential rains in July and August this year.
The rains caused landslides, soil erosion, and waterlogging on the track, making it unsafe and unusable for the trains. The track between Tara Devi and Shimla was especially affected, as it suffered a lot of damage and near Summerhill Railway Station the track seemed to be hanging in the air.
The Railway Board then prepared a plan to repair the track in a phased manner after the rains stopped completely. The plan involved three phases: Phase I from Kalka to Solan, Phase II from Solan to Tara Devi, and Phase III from Tara Devi to Shimla. The repair work was carried out by the engineering department of the Northern Railway with the help of local authorities and contractors.
After completing the repair work successfully, the Railway Board conducted trial runs and safety inspections on the track before giving the green signal for resuming operation. The passengers and tourists who were eagerly waiting for the trains to run again on this historic track can now enjoy the scenic beauty and charm of the hills once again.