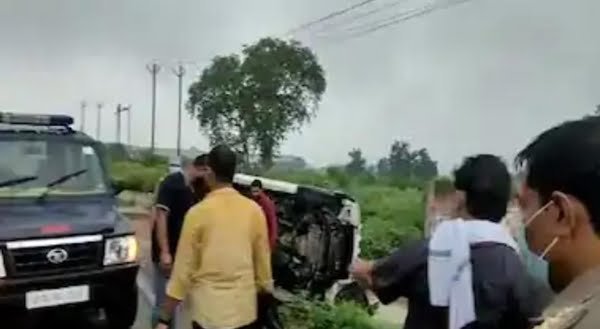 New Delhi: Vikas Dubey (Vikas Dubey), the main accused in the shootout being brought from Kanpur (Kanpur) to Ujjain in Madhya Pradesh (Madhya Pradesh), has died in an encounter. He has been shot by police while trying to escape. Before the Encounter, there was an accident of the vehicle in which development was being brought. In this regard, SSP Kanpur Dinesh Kumar P told the whole incident how the police had to run at a speed to get rid of some vehicles and it became an accident. During this time, UP STF was also with him.
The vehicle coming in speed overturned due to rain.
SSP Dinesh Kumar P told that there were some vehicles behind the convoy bringing Vikas Dubey. She was constantly following the police convoy. Due to which an attempt was made to drive the vehicle fast and became an accident. To reach early, an attempt was made to drive the car too fast. The rain was heavy so the vehicle overturned.
Taking advantage of this opportunity, Vikas ran away. But our STF jawans were following this vehicle from behind. He combed, fired and Vikas Dubey was killed in self-defense. An encounter is not a thing, we follow the judicial process. All henchmen of development will be arrested.