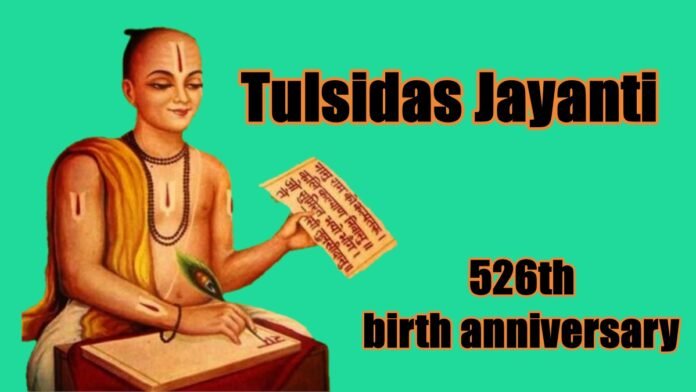 Tulsidas was born on Saptami (seventh day) of the Krishna Paksha, in the Shravana month of the Hindu Lunar calendar. This year, the Tulasi das Jayanti will fall on August 23. The day will be the 526th birthday anniversary of the 16th-century poet and saint.
Goswami Tulsidas was a Hindu saint and poet who was devoted to Lord Rama. He was born in 1511 in Uttar Pradesh, India, and was adopted by a Vaishnava sage named Narharidas. He studied Sanskrit and Vedas in Varanasi and became a scholar and a renunciant. He married Ratnavali, but later left her to pursue his spiritual quest. He traveled across India and composed many works in Awadhi, Braj, and Sanskrit languages.
His most famous work is the Ramcharitmanas, an epic poem that retells the story of Rama from the Ramayana in Awadhi. It is considered one of the greatest works of Hindi literature and a sacred scripture by many Hindus. It is also the source of the popular Ramlila plays that dramatize the life of Rama.
Some of his other works are:
Hanuman Chalisa, a devotional hymn of 40 verses praising Hanuman, the monkey god and devotee of Rama.
Vinaya Patrika is a collection of 279 poems that seek the blessings of various gods and goddesses, especially Rama and Sita.
Geetawali is a lyrical version of the Ramayana that contains songs sung by the characters.
Dohavali is a collection of 573 couplets on various themes such as devotion, ethics, wisdom, and love.
Kavitavali is another version of the Ramayana that contains longer and more elaborate verses than Geetawali.
Parvati Mangal, a poem that narrates the marriage of Shiva and Parvati.
Janaki Mangal, a poem that narrates the marriage of Rama and Sita.
Vairagya Sandipani is a poem that expresses the detachment from worldly pleasures and attachment to Rama.
Tulsidas died in 1623 in Varanasi. He is revered as a saint and a poet by millions of Hindus. He is also known as Goswami, Sant, Abhinavavalmiki, and Bhaktashiroamani. He is believed to be a reincarnation of Valmiki, the original author of the Ramayana.