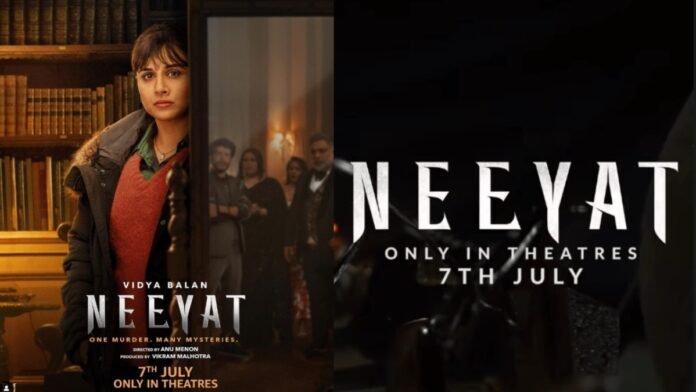 New Delhi: The makers of Vidya Balan starrer 'Neeyat' on Thursday released the trailer of the murder-mystery film. Set in the breathtakingly beautiful highlands of Scotland, the engaging trailer takes the viewer into the glamourous world of billionaire Ashish Kapoor and his close circle of family and friends, where everyone is tangled in their own web of secrets. When Ashish Kapoor ends up being murdered at his own party, it is up to Detective Mira Rao to uncover the hidden motives and mysteries in this classic whodunnit.
Audiences can expect edge-of-the-seat, captivating entertainment from this murder mystery with Vidya looking especially refreshing in a never-seen-before avatar. The movie also features a strong ensemble cast featuring Ram Kapoor, Rahul Bose, Neeraj Kabi, Amrita Puri, Shahana Goswami, Niki Walia, Dipannita Sharma, Shashank Arora, Prajakta Koli, Danesh Razvi, Ishika Mehra and Madhav Deval in pivotal roles. A unique genre backed by a stellar ensemble cast makes this film definitely one to look out for!
Speaking about her experience of working on 'Neeyat' and returning to the big screen, Vidya said, "What I enjoy most about being an actor is the opportunity to live the life of a different person with every character I play. In Neeyat, Detective Mira Rao is not your everyday, classic detective which is what made it great fun for me. Also, not only did I get a chance to sink my teeth into an unusual and quirky character but I also got to work with a powerful set of co-actors."
"This film is my second outing with Anu after 'Shakuntala Devi' and my fourth collaboration with Vikram, Abundantia Entertainment, and Prime Video, and I can only say that I have had the most amazing time working with them to make this film. Last, but not the least, I'm supremely delighted to be back in theatres with the release of Neeyat and am waiting with bated breath for audience reactions," she added.
'Neeyat' marks Vidya's return to theatres after her successful digital stint with three super hit films – from the family entertainer 'Shakuntala Devi' (2020) to the critically hailed 'Sherni' (2021) and finally the impactful blockbuster 'Jalsa' (2022).
Directed by Anu Menon, it is produced by Vikram Malhotra-led Abundantia Entertainment, and co-produced by Prime Video.
Speaking about her film, Anu shared, "Neeyat is very special for all of us. Not only is it a genre unique to India, but it was also my first time working on a classic murder mystery with such a huge cast, in a completely foreign location. While working with Vidya and this ensemble cast, was both exciting and challenging; it was also a lot of fun! The film promises to entertain and take the audience on an engaging ride. I am excited for them to experience the murder mystery of the year in theatres!" It will release in theatres on July 7.