Srinagar: This year, due to the Corona crisis, the Jammu and Kashmir administration and the Shri Amarnathji Shrine Board have finally clarified their position on starting the annual Amarnath Yatra. In view of the increasing corona cases in Jammu and Kashmir, it has been decided to cancel this year's Amarnath Yatra.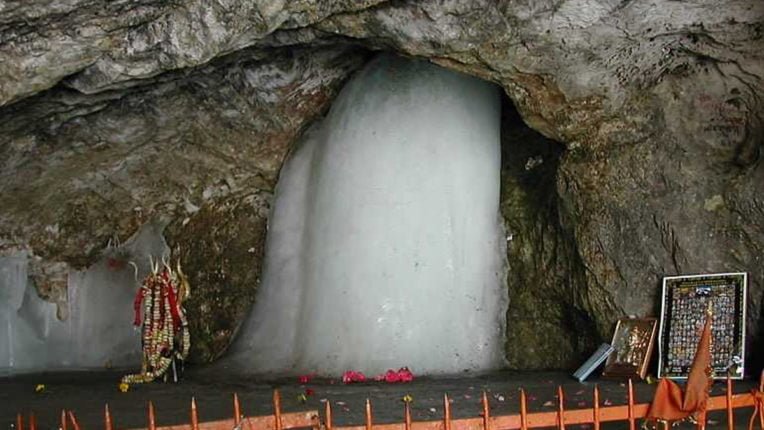 Amarnath Yatra has been canceled this year due to the crisis of Covid-19. Earlier, the officials had said that the yatra will start from July 21 and will run till August 3. However, this decision has now been withdrawn.
The Amarnathji Shrine Board administers the affairs of cave pilgrimage at an elevation of 3,880 meters above sea level in Anantnag district of Jammu and Kashmir.
As per the old plan, it was decided that the journey would be by one route only and all pilgrims would have to undergo the test of COVID-19. It was also said that the temple authorities would broadcast the puja on television to devotees across the country.
Last week, Defense Minister Rajnath Singh visited Amarnath's holy cave and offered prayers. He was accompanied by Chief of Defense Staff General Bipin Rawat and Army Chief General MM Narwana. At that time, he spent about an hour in the temple premises.
The Amarnath cave is considered one of the holiest temples of Hinduism. It is located at an altitude of 13,600 feet above sea level in Kashmir. The Amarnath cave is one of the major shrines of Lord Shiva. It is said that here, Lord Shiva had told Mother Parvati the secret of immortality. A natural Shivling is prepared in this sacred cave. It is also called Swayambhu Snow Shivling. Amarnath Yatra begins on Ashada Purnima and till Rakshabandhan i.e. throughout the month of Shravan, lakhs of people come to see this holy Shivalinga. During Amarnath Yatra, lakhs of devotees complete this yatra by challenging it to the hilly areas.