New Delhi: Amid the spurt of COVID-19 cases in Delhi, Union Home Minister Amit Shah on Sunday said the testing rate in Delhi will be increased to double in the next two days and will be up by three times in next six days and soon there would be an arrangement of testing in each polling stations of every containment zone.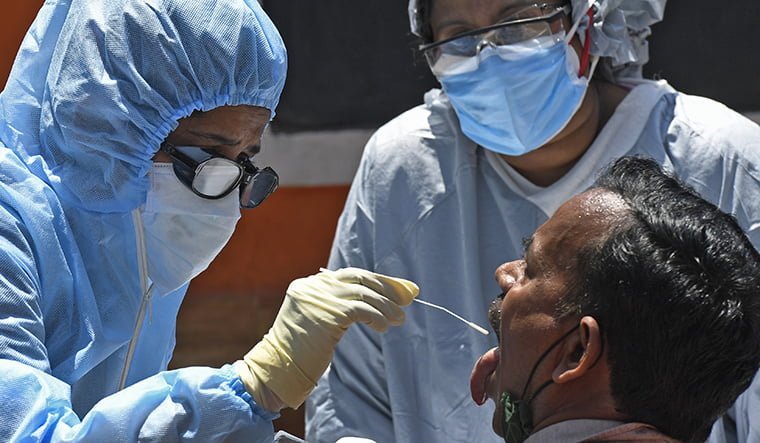 Taking to micro-blogging site Twitter, he said that for better contact mapping in every containment zone, the health workers will be visiting each house and a detailed heath survey of each person will be done and they will also be asked to download the Aarogya Setu App for better monitoring.
Mr Shah posted a series of tweets, after chairing a 90-minute-long marathon meeting with Union Health Minister Harshwardhan, Delhi LG Anil Baijal, Chief Minister Arvind Kejariwal, Deputy Chief Minister Manish Sosodia and other officials of the health Ministries of states and Centre.

'For the treatment of corona infection in private hospitals in Delhi, a committee has been formed under the chairmanship of Dr Paul, which will ensure 60 per cent beds in private hospitals for corona treatment and also fix the rates for treatment. The Committee will submit its report by Monday,' Mr Shah tweeted.
In order to provide correct information and guidelines for the treatment of COVID-19 patients in small hospitals in Delhi, the Union Home Minister said the Modi Government has decided to constitute a committee of senior doctors in AIIMS to provide telephonic guidance of best treatment practices to them. The Helpline number will be issued on Monday, he added.
In view of shortage of beds for Covid positive patients in Delhi, the Modi Government at the Center has decided to give 500 railway coaches to Delhi immediately.These railway coaches will not only add 8000 beds in Delhi and these coaches are well equipped with all necessary facilities to fight against this deadly disease", the Home Minister added.
While praising that many voluntary organisations have been doing excellent work in containment of the lethal virus, Mr Shah further said that the Centre has decided to rope in the services of Indian Scout, NCC, NSS and other NGOs as volunteers for this epidemic.
He also assured the Delhi Government that there would not be any paucity of resources such as Oxygen Cylinders, ventilators, pulse oximeter and all necessary items for the treatment of COVID patients.
'India has been fighting strongly against COVID-19 and the Government is sad and sensitive to the families, who have lost their kin due to this infection. The Government has decided to release new guidelines for the funeral, which will reduce the waiting period for the last rites of the deceased,' Mr Shah tweeted.
The Home Minister also announced that a joint team of doctors from Delhi Government, AIIMS and doctors from all three municipal corporations will inspect the health facilities and preparations in all hospitals of Delhi and submit a report.