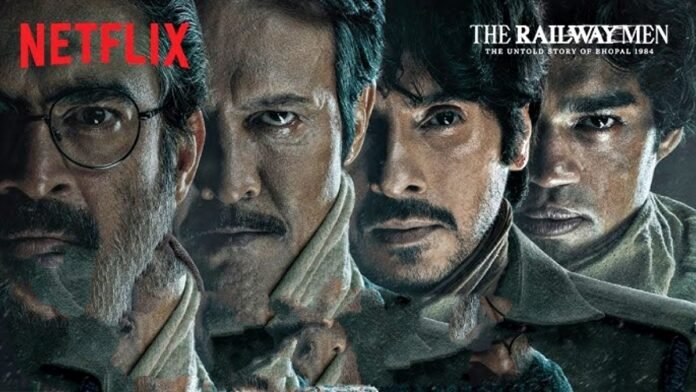 Mumbai: The Bhopal gas tragedy was one of the worst industrial disasters in history, which claimed the lives of thousands of people and injured many more on the night of December 2, 1984. The leak of methyl isocyanate gas from the Union Carbide plant in Bhopal, Madhya Pradesh, created a cloud of toxic fumes that engulfed the city and its surroundings. The effects of the gas were devastating, causing respiratory problems, eye irritation, blindness, neurological damage, and birth defects among the survivors.
Based on this true incident, Netflix has released the teaser of its upcoming web series, The Railway Men, on October 28. The series is produced by Yash Raj Films and directed by Shiv Rawail, who makes his debut with this project. The series features a star-studded cast, including R. Madhavan, KK Menon, Divyendu Sharma, and Babil Khan, who play the roles of Indian Railways employees who showed courage and compassion during the crisis.
The teaser of The Railway Men shows glimpses of the horrific night of the gas leak, as well as the heroic efforts of the railway staff to save the lives of many people trapped in the affected area. R. Madhavan plays the role of Rati Pandey, the Central Railway General Manager, who coordinates the rescue operations. KK Menon plays the role of the station master, who manages the trains and passengers. Babil Khan plays the role of a loco pilot, who drives a train through the gas cloud. Divyendu Sharma plays the role of a constable, who helps the victims and maintains law and order.
The Railway Men is a tribute to the unsung heroes of Indian Railways, who risked their lives to serve humanity during one of the darkest hours in history. The series also aims to raise awareness about the environmental and social impacts of the Bhopal gas tragedy, which are still felt today by the survivors and their families. The series will have four episodes and will stream on Netflix from November 18, 2023.