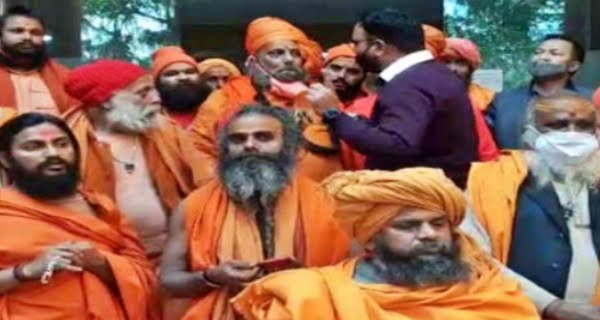 Haridwar: The patience of saints and saints broke on Saturday due to the unfinished work of Kumbh. He reached Mela Bhavan under the leadership of Prem Giri, Chairman of Juna Akhara. Due to the incomplete and slow running of Kumbh, he fiercely attacked the officials. Prem Giri warned that he was going to talk to the Chief Minister about this. After this, the officers of the Mela Foundation explained to him and inspected the spot with the saints and saints to settle the complaint.
Chairman of the Juna Akhara Prem Giri said that on January 25, a group of hundreds of saints and saints are coming from Bareilly. There is also a city entrance on the same day. No arrangement has been made for their stay, electricity, water and toilets. The whole country is watching the Kumbh Mela. The saints and saints have spoken of supporting the administration at all times, but whether the cooperation will have to be given till the end of Kumbh Mela. Will the work be completed after the Kumbh Mela?
Work will be completed by 25 January: Deputy Magistrate
Deputy Magistrate Anshul Singh reached the spot and went to inspect with the saints. He assured that the works would be completed before the 25th. Deputy Magistrate Anshul Singh said that there was some resentment among the saints regarding the Peshwai Marg. Peshwai Marg has been inspected. In the next two to four days, the Peshwai Road will be repaired and other works of Kumbh will also be completed by 25 January.