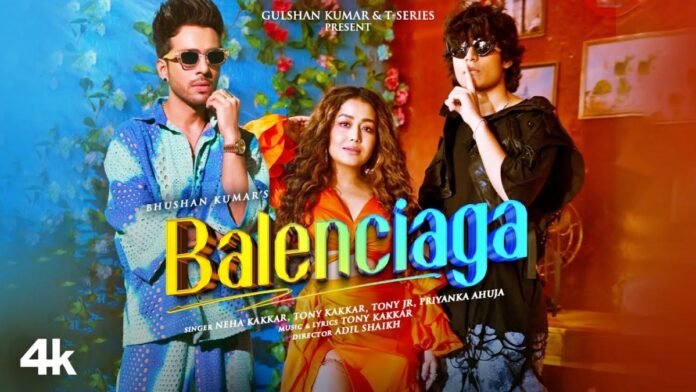 Mumbai: Producer Bhushan Kumar has brought Neha Kakkar, Tony Kakkar, and Tony Jr together for the very first time for an upbeat track 'Balenciaga'.
Composed and written by Tony Kakkar, known for his groovy tunes, the track with additional vocals by Priyanka Ahuja is fun, vibrant, and one that's guaranteed to get you on your feet this summer party season.
Directed by Adil Shaikh, 'Balenciaga' features the Kakkar siblings, along with Tony Jr, as they sport colorful bohemian and tropic looks – One big free-spirited party was the route Adil Shaikh chose to go with for the music video; that reflects the mood and vibe of the song.
Neha said, "I had a blast filming 'Balenciaga' because the energy and tune of the song is so infectious. It was special collaborating with Tony and Tony Jr and hoping that audiences will love and support Tony Jr as they have supported us."
Tony Kakkar shared, "Balenciaga is a fun song with an easy-listening vibe – The music video is vibrant and has a lot of swag which I think the young crowds will love. We are excited to introduce Tony Jr with the song and he has a fresh, new sound for audiences to enjoy."
Inspired by Tony Kakkar, his nephew Tony Jr makes his big debut with Balenciaga, following in his footsteps. He says, "I opted for the name 'Tony Jr' because he is my inspiration and the reason I'm into music today. We shared a great synergy while creating this song – We also had fun filming the track which reflects in the music video."
Says Priyanka Ahuja, "Balenciaga is a fun, summer party song that has addictive beats, some really cool lyrics, and is visually so appealing."
Adil added, "When you have names like Neha Kakkar and Tony Kakkar in a song, you can be confident that the music video will have a lot of energy and stylish visuals. 'Balenciaga' is sexy, bohemian, energetic, and groovy and audiences are going to enjoy this visual treat."