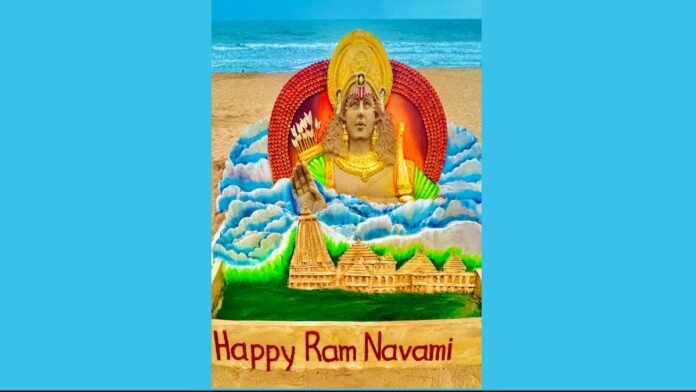 New Delhi: Today i.e. on March 30, the holy festival of 'Ram Navami' is being celebrated across the country. This festival is considered very auspicious for the Hindu religion. Because Lord Shri Ram was born on the day of Ramnavami at the house of King Dasaratha in Ayodhya. For this reason, fasting and worshiping during the Ram Navami festival have been described as very virtuous.
The sand artist created artwork
So at the same time, on the occasion of Ram Navami, the artwork made on the sand by famous sand artist Sudarshan Patnaik on social media is making a lot of headlines. Sand artist Sudarshan Patnaik has created a very attractive artwork of Lord Ram on the sand. Which he has shared on his official Twitter handle.
What's in this artwork?
In the artwork made by Sudarshan Patnaik, you can see that Lord Rama is seen with a bow and arrow in his hand. Along with this, the view of Ayodhya is also visible in this picture. Which people are liking a lot? This artwork is very beautifully done.
Share photos on social media
Posting the picture on Twitter, the artist wrote, On the auspicious occasion of Ram Navami. My standard with the message Happy Ram Navami at Puri beach, Odisha. Jai Shri Ram. At the moment, this picture is being liked a lot on Twitter. Along with this, people are retweeting it and giving their reactions to it.