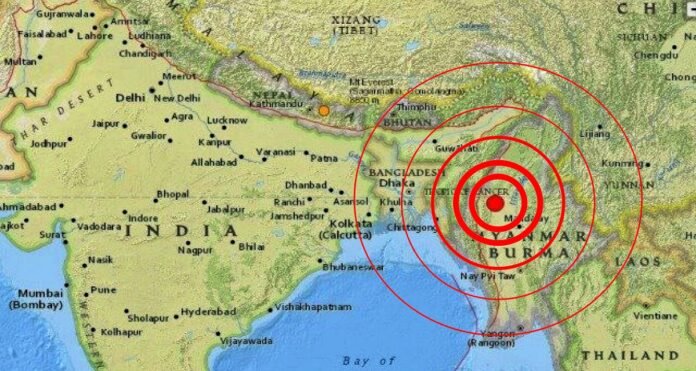 Kuala Lumpur: An earthquake of magnitude 6.1 struck northwest Myanmar near the India border in the early hours of Friday. Due to less population there, the loss has also been reduced.
According to the US Geological Survey, the epicenter of the quake was near the city of Hakha, the capital of Chin state, at a depth of 32.8 kilometers (20.4 mi), with tremors also felt in towns and cities across the border in India and Bangladesh.
India: Earthquake tremors felt at many places
Significantly, tremors were felt in West Bengal, Tripura, and Assam in India today. According to the post of EMSC, earthquake tremors were also felt in most parts of Kolkata and Guwahati. At the same time, according to the National Center for Seismology, an earthquake of 6.3 magnitudes occurred at 5:15 am. The central nodal agency that monitors earthquake activities in the country now also said that its epicenter was at a depth of 12 km and 73 km south-east of Aizawl in Mizoram.
The agency said the recent earthquakes in the region have increased the risk of landslides, which can cause significant damage. However, this earthquake occurred in a sparsely populated area, so it did not pose much danger.
It may be known that even a year ago, strong tremors of earthquake were felt on the Indo-Myanmar border, but at that time its intensity was measured at 5.3 on the Richter scale. Users posted on the website of the European-Mediterranean Seismological Center (EMSC) and on Twitter said that this time the tremors were very strong.