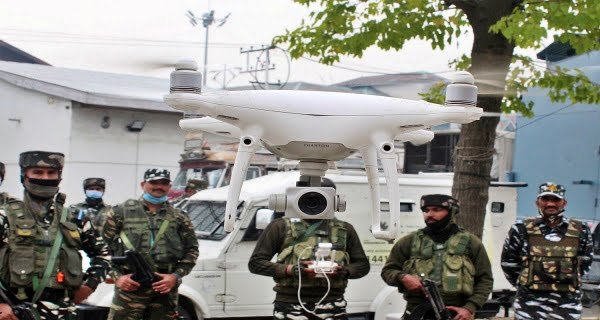 Srinagar: Nearly eight years after militants killed civilians in the past two weeks in Kashmir, security bunkers are returning to the city's streets and more paramilitary personnel are being deployed. Security bunkers are being set up by the Central Armed Paramilitary Forces (CAPFs) in several areas of Srinagar where they were removed between 2011 and 2014 after overall improvement in the security situation in Kashmir. It is to be known that, Home Minister Amit Shah is going to reach Jammu and Kashmir tomorrow on Saturday.
First tour after 370
This is the first time Amit Shah is visiting the state after the abrogation of Article 370 from Jammu and Kashmir on August 5, 2019. Ahead of his visit, heavy security forces have been deployed in every nook and corner of Srinagar. Along with this, 15 additional companies have also been deployed in the entire district. Along with this, the entire area is also being monitored by drones.
Trying to stop the free movement of terrorists
Sources said construction of new bunkers and deployment of more security personnel is being done to curtail the free movement of terrorists. He said that the recent incidents of terrorism show that terrorists move from one area to another within a short period of time after committing the crime which can be stopped only by establishing dominance in the region and curbing their free movement.
Official sources said 50 companies of additional paramilitary forces are being deployed to strengthen the security apparatus in the Valley, especially in Srinagar, in the wake of the killings of civilians. Over 50 security posts and bunkers in Srinagar were removed on recommendations made by an all-party delegation that visited Kashmir in 2010.
Similar recommendations were made in 2010 by a team of interlocutors appointed by the Centre. The team was led by senior journalist Dilip Padgaonkar and had Professor Radha Kumar and former Information Commissioner M M Ansari as its members.
The situation then improved to such an extent that the then Union Home Minister P Chidambaram was considered in favor of repeal of the Armed Forces Special Powers Act (AFSPA) in a phased manner from Jammu and Kashmir. However, this time new bunkers have been built at places where no such thing existed even during the peak of militancy in the Valley in the 1990s. Two such bunkers have been built on the Barzulla bridge on the airport route in Srinagar.
However, the police officials did not comment on the new steps taken in the Valley. Police have also snapped internet in some parts of Srinagar and some areas of south Kashmir and launched an intensive paper checking operation of two-wheelers in the city. Inspector-General of Police, Kashmir Zone, Vijay Kumar had said that these steps are completely related to terrorist violence.
Internet was snapped at a dozen towers three days ago, mostly in areas where non-locals were killed by terrorists last week. Terrorists have killed nine civilians this month, including five non-local laborers and three Hindus and Sikhs from Jammu and Kashmir.