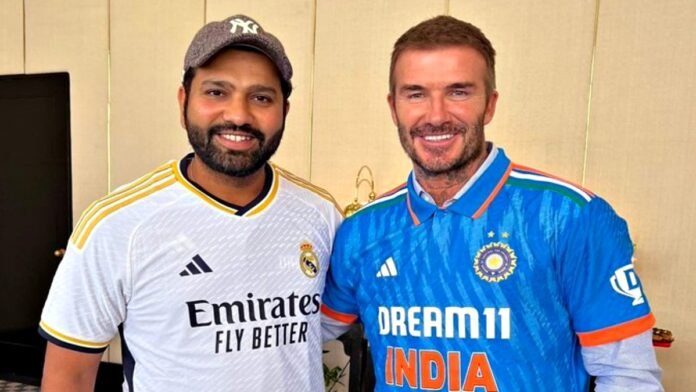 Mumbai: India's cricket captain Rohit Sharma had a memorable meeting with former England football star David Beckham after leading his team to a stunning victory over New Zealand in the first semi-final of the World Cup 2023 on Thursday.
Many celebrities and dignitaries were present at the stadium to witness the thrilling encounter, including Beckham, who is in India for a promotional tour. Beckham, who is widely regarded as one of the best free-kick takers and crossers of the ball in football history, is also a fan of cricket and has expressed his admiration for Indian cricketers in the past.
After the match, Rohit Sharma and David Beckham met each other at the hotel where the Indian team was staying. The picture of this iconic meeting, which was shared by Rohit on his social media accounts, went viral among the fans of both sports. In the picture, Beckham can be seen wearing the Indian team's jersey with Rohit's name and number on the back, while Rohit is wearing Beckham's jersey with his name and number on the front. Both the legendary players are smiling and posing for the camera.
Not only this, Beckham also wished Rohit Sharma all the best for the final match against the winner of the second semi-final between Australia and England, which will be played on Friday. A video of this gesture, which was also shared by Rohit on his social media accounts, showed Beckham shaking hands with Rohit and saying, "Congratulations, mate. You played brilliantly. All the best for the final. I hope you win it."
Rohit Sharma thanked Beckham for his kind words and said, "Thank you, sir. It means a lot coming from you. You are an inspiration for millions of people around the world. I am a big fan of yours."
Let us tell you that this is the first time that India has reached the final of the World Cup under the captaincy of Rohit Sharma, last time India won the World Cup was in 2011, under the captaincy of Mahendra Singh Dhoni. The fans are hoping that history will repeat itself and India will lift the coveted trophy once again.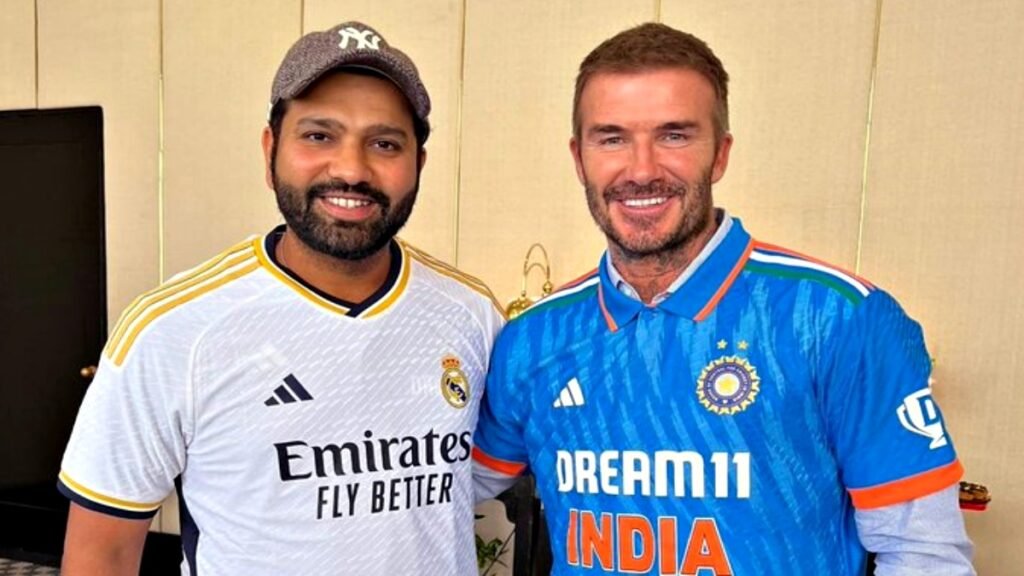 The final match of the World Cup 2023 will be played on Sunday, November 19, at the Narendra Modi Stadium in Ahmedabad, which is the world's largest cricket stadium with a capacity of 1.1 lakh spectators. The Prime Minister of India, Narendra Modi, who hails from Gujarat, will also be present at the stadium to watch the match and boost the morale of the Indian team.