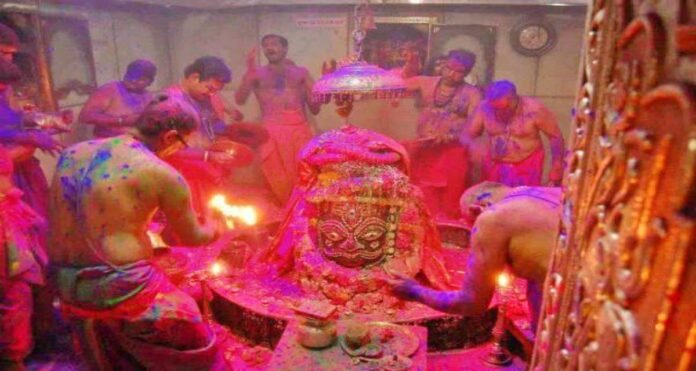 Ujjain: The world-famous Jyotirlinga Mahakal temple, Holika Dahan will take place for the first time in Pradoshkal on 6th March. Rajadhiraj Lord Mahakal will play Holi with herbal gulal on March 7 at 4 am. After this, the townspeople will celebrate Rang Parv. There is a ritual of worshiping Holika on Falgun Purnima during Pradosh. According to the calculations of the Panchang, Holika will be worshiped and burnt in the Mahakal temple in the evening due to Chaturdashi in the morning and Purnima Tithi in the Pradosh period on March 6. After the evening aarti, the priest, and the women of the priestly family will worship Holika. After this Holika will be burnt with chanting.
Mahakal will bathe in cool water
Holi festival will be celebrated on March 7 at 4 am in Bhasma Aarti. Priests will offer gulal to Lord Mahakal. After this Holi will be played with the devotees. The order of bathing with cold water will start On March 7 at Chaitra Krishna Pratipada Dhulendi, the order of bathing Lord Mahakal with cold water will start.
Will bathe with cool water till Sharad Purnima
Pujari told that after the beginning of winter from Kartik Krishna Pratipada, the process of bathing Lord Mahakal with hot water in Bhasma Aarti in the early morning was going on. In the tradition of the temple, Chaitra Krishna Pratipada is considered to be the beginning of summer, so from March 7, instead of hot, bathing of God will be started with cold water. This process will continue till Sharad Purnima.