Ayodhya: Ayodhya, the city of Lord Rama, has been decorated as a 'bride' for the Bhoomi Poojan program to be held on August 5. On Wednesday, Prime Minister Narendra Modi, Rashtriya Swayamsevak Sangh chief Mohan Bhagwat, Uttar Pradesh Governor Anandiben Patel, Chief Minister Yogi Adityanath will be involved in this historic land worship program for construction of the grand Ram temple. Most of the roads leading to Ayodhya from the state capital Lucknow and other neighboring districts are adorned with big posters, banners and hoardings of Lord Ram's proposed temple and Ram Lala. The investigation of the vehicles going to Ayodhya starts from the Barabanki district that preceded it and strict investigation is being done at four places along the way. Policemen are also taking note of the mobile number and full details of the vehicles riding in the vehicles entering Ayodhya.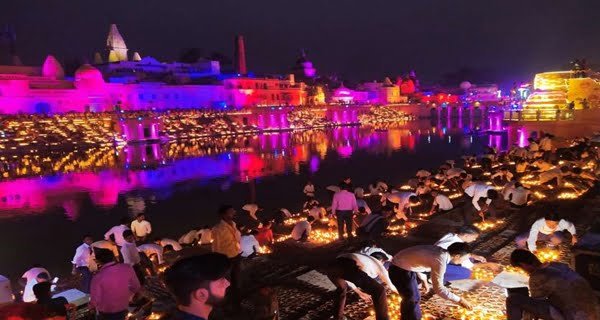 Only those people who have received official approval are allowed to enter Ayodhya. Those arriving in Ayodhya on Tuesday had to go through a number of security arrangements. In Hanumangarhi area, sirens of police and administration vehicles are heard from far away. Along with this, the sweet sound of the hymns of Lord Rama also starts dissolving in the ears. On the road to Hanumangarhi, road blocks have been installed at various places with wooden bats. Iron blockers have also been installed at many places. The route to Hanumangarhi is completely clean and sprinkling of water has been done at various places.
Giving detailed information about the security system, Senior Superintendent of Police of Ayodhya Deepak Kumar told PTI-Bhasha, "As far as August 5 is concerned, we are fully following the Kovid-19 rules. That is why we are not allowing any outsider to enter Ayodhya, five people are not allowed to congregate in one place in the city. We are trying our best to strictly follow the rules of Kovid-19. " He told, "As far as the Prime Minister's visit is concerned, many security agencies are working for it. As far as the people of the city are concerned, the shops and markets of the city will be open keeping the Kovid rules in mind. "
The Senior Superintendent of Police said that the route has been changed for those entering Ayodhya on August 5 but people living in Ayodhya will not be stopped from showing their identity cards but outsiders will not be allowed to enter the city. Road blockers have been installed in the city and adequate police force has been deployed. "We are conducting a surprise check on the people living in Ayodhya so that no outsider stays here," he said. The city's temples – mosques will remain open but no event is allowed in the city except for the Bhoomi Poojan program. " Meanwhile, at the entrance of Hanumangarhi road, some laborers are engaged in repairing the broken wall of Pandit Deen Dayal Upadhyaya memorial. Heavy security personnel are stationed near Hanumangarhi temple. Hanumangarhi is beautifully decorated with new colors. The shops around it have also been painted dark yellow which looks quite delectable.