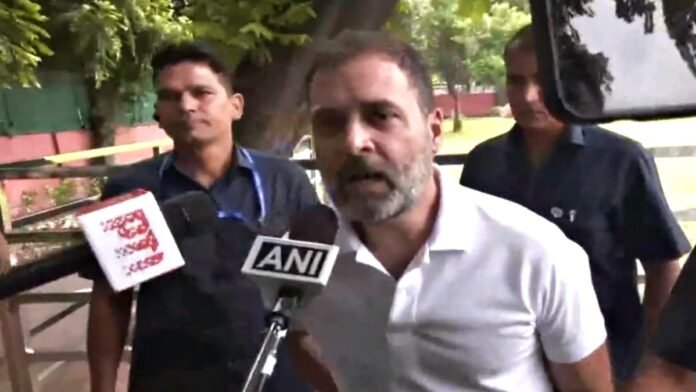 New Delhi: Congress leader Rahul Gandhi will now get back his bungalow after regaining the membership of the Lok Sabha. Government sources gave this information on Tuesday. It is said that Rahul Gandhi, MP from Kerala's Wayanad, has asked for his official MP residence back. If sources are to be believed, he has been allotted his old house which is 12 Tughlaq Lane.
When Congress MP Rahul Gandhi was asked to react on getting back his official residence as an MP, he said, "My home is the whole of India." He had reached the AICC headquarters for a meeting with Assam Congress leaders.
A court in Surat convicted Rahul Gandhi in the 'Modi surname' case and sentenced him to a maximum of two years imprisonment, due to which he was disqualified from the lower house of Parliament. Later, the Gujarat High Court also upheld the sentence of the Congress leader, but the apex court stayed his sentence. After this decision of the court, Gandhi will be able to contest the 2024 Lok Sabha elections.
Congress leader Rahul Gandhi's Lok Sabha membership was restored on Monday, three days after the Supreme Court stayed the conviction of Congress leader Rahul Gandhi in connection with his remarks on the 'Modi surname'. The Lok Sabha Secretariat had issued a notification in this regard. The secretariat had said in the notification that in view of the August 4 decision of the Supreme Court, the implementation of the March 24 notification regarding Gandhi's disqualification is stayed till further judicial decision.
The notification states, 'In continuation of the notification dated March 24, 2023, the Supreme Court has passed an order on August 4, 2023, regarding Special Leave Appeal (CRL) No. 8644/2023, representing Wayanad Parliamentary Constituency of Kerala. The punishment of member Rahul Gandhi has been stayed. The order of conviction was passed by the Court of the Chief Judicial Magistrate (Surat) dated March 23, 2023.
It also states, 'Rahul Gandhi in the light of section 8 of the Representation of the People Act, 1951 in view of the provisions of Article 102(1)(e) of the Constitution in view of the order dated August 4, 2023, of the Supreme Court of India The disqualification of (as a member) has been stayed, subject to further judicial orders.
The Supreme Court on Friday, August 4, stayed Gandhi's conviction in a criminal defamation case lodged against him in 2019 in connection with his remarks on the surname Modi, paving the way for his reinstatement in the Lok Sabha. A bench of Justice BR Gavai, Justice PS Narasimha and Justice Sanjay Kumar, while delivering the judgment on August 4, had said that the trial court judge, while holding Rahul Gandhi guilty, did not give any reason except that he should be approached by the apex court in a contempt case. has warned.