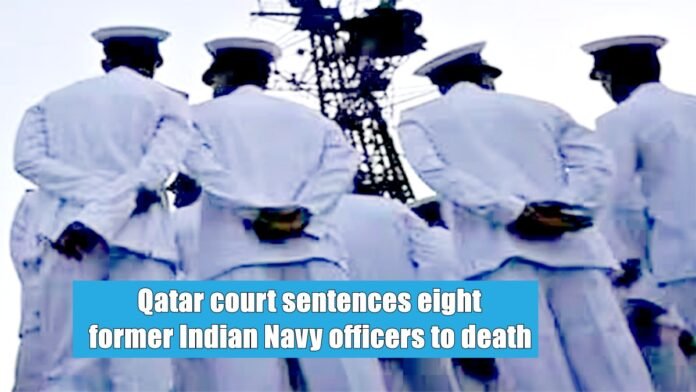 New Delhi: In a shocking development, a Qatar court has pronounced death sentences for eight former Indian Navy officers who were working for a private Indian company in the Gulf country. The verdict was delivered by the Court of First Instance of Qatar on Thursday, without disclosing the charges or evidence against them. The Indian government has expressed its dismay over the decision and said that it is looking into all legal options to challenge the verdict and save the lives of its citizens.
The eight Indians who have been sentenced to death are Captain Navtej Singh Gill, Captain Saurabh Vashishtha, Commander Purnendu Tiwari, Captain Birendra Kumar Verma, Commander Sugunakar Pakala, Commander Sanjeev Gupta, Commander Amit Nagpal, and Sailor Ragesh. They were all employed by Dahra Global Technologies and Consultancy Services, a defense services provider company owned by an Omani national, a retired squadron leader of the Royal Omani Air Force.
The eight Indians have been in jail in Qatar since August 2022, when they were arrested by the Qatari authorities. However, the nature and details of their alleged crime have not been made public by the Qatari authorities. The Indian Embassy in Qatar has been providing consular and legal assistance to them and has been following up on their case with the Qatari government. India's Ambassador to Qatar met these personnel in jail on October 1 this year.
The Ministry of External Affairs (MEA) of India said that it was initially informed that the Qatar court had given its verdict in the case related to the eight Indian employees of Al Dahra Company. The MEA said that it was extremely shocked by the death sentence and was awaiting the full details of the verdict. The MEA said that it was in touch with the family members and the legal team of the eight Indians and was considering all legal options.
The MEA further said that it attached great importance to this matter and was keeping a close eye on it. The MEA said that it would continue to provide all consular and legal assistance to the eight Indians and would also raise the decision with the Qatari authorities. The MEA said that due to the confidential nature of the proceedings in this case, it would not be appropriate to make any further comments at this time.
The death sentence awarded by the Qatar court has sparked outrage and concern among the Indian community in Qatar and elsewhere. Many people have taken to social media to express their solidarity with the eight Indians and demand justice for them. They have also urged the Indian government to intervene at the highest level and secure their release. Some people have also questioned the fairness and transparency of the Qatari judicial system and accused it of violating human rights and international law.