Agra: A major fire broke out in two general coaches of Patalkot Express on Wednesday afternoon, creating panic and chaos among the passengers. The train was en route from Mathura to Jhansi when the incident occurred at Bhandai railway station in the Agra district of Uttar Pradesh. At least two passengers were injured and several others jumped out of the windows to save their lives.
According to railway officials, the fire was detected around 4.45 pm when smoke started coming out of the third and fourth coaches of the engine. The train was immediately stopped and the affected coaches were separated from the rest of the train. The fire tenders and forensic team reached the spot and doused the flames. The two coaches were completely burnt and the fire also damaged two more adjacent coaches.
The cause of the fire is yet to be ascertained, but some sources said that it could be due to a short circuit or a spark from the engine. The passengers who were travelling in the affected coaches were shifted to other coaches and the train resumed its journey after a delay of about two hours. The train operations on the Agra-Dholpur route were also affected and many trains were halted at various stations.
The Patalkot Express is a daily train that runs between Firozpur Cantonment in Punjab and Seoni in Madhya Pradesh. It covers a distance of 1,600 km and passes through several states, including Haryana, Rajasthan, Uttar Pradesh, Madhya Pradesh and Maharashtra. The train is named after Patalkot, a valley in the Chhindwara district of Madhya Pradesh, which is known for its natural beauty and biodiversity.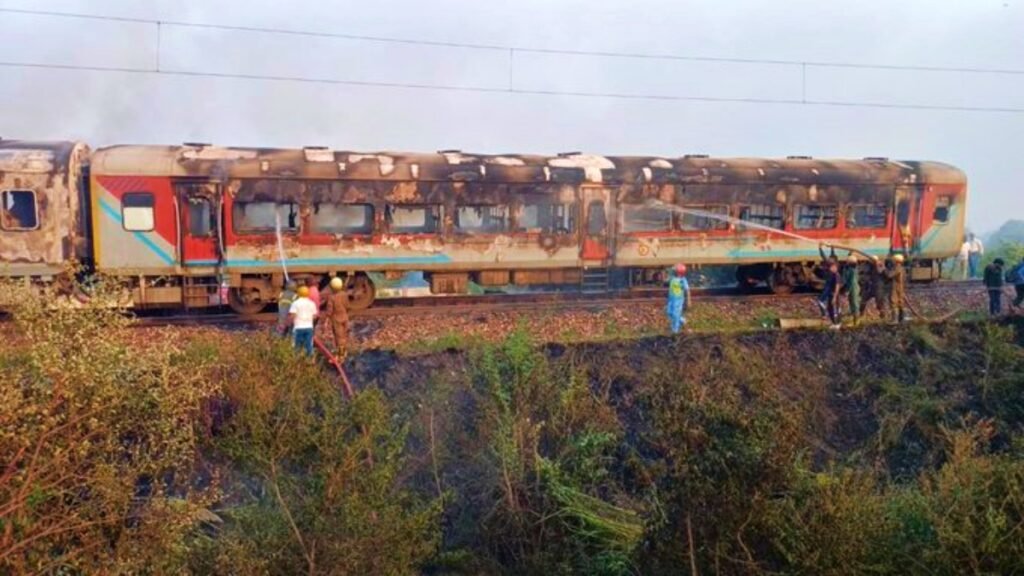 Sonam Kumar, Deputy Commissioner of Police (West), Agra Police Commissioner's Office, said that two passengers who sustained injuries in the fire were taken to a nearby hospital for treatment. He said that an investigation has been launched to find out the exact cause and circumstances of the fire. He also appealed to the public not to spread any rumors or false information about the incident.