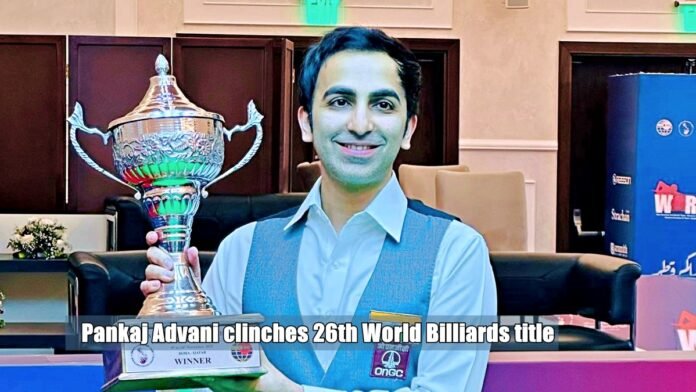 Doha: Pankaj Advani, India's ace cueist, added another feather to his cap by winning the IBSF World Billiards Championships title for the 26th time in his illustrious career. He defeated his fellow countryman Saurav Kothari in a thrilling final that saw him overturn a huge deficit of 154 points in the first hour of play. The final score was 1000-416 in favor of Advani, who had also beaten Kothari in the previous edition of the tournament in Kuala Lumpur.
The match started with Kothari taking a commanding lead of 180-26 with some fluent scoring, while Advani struggled to find his rhythm. Kothari looked set to extend his advantage, but he missed some easy shots that allowed Advani to stage a remarkable comeback. Advani seized the opportunity and unleashed a barrage of big breaks, including a 150, a 214, and a 199, to leave Kothari trailing by a huge margin. Kothari tried to fight back with a 99 break, but it was too little too late as Advani reached the 1000-point mark with an unbeaten 199 break to seal the victory.
Advani, who hails from Bengaluru, expressed his delight at winning the title for the 26th time and said that it was a testament to his hard work and consistency. He said, "I have won before so I know the feeling, but winning it multiple times year after year validates the hours of hard work put in on skill, body, and mind. For me, consistency is the key to success and I am most motivated to win a world title for the country."
Kothari, on the other hand, attributed his loss to fatigue and said that he did not have enough time to recover from his gruelling semi-final match that lasted for almost five hours. He said, "My semi-final match lasted for almost five hours and I had to play the final after a break of a little more than an hour. I think it was due to fatigue."
Advani had earlier defeated another Indian player, Rupesh Shah, 900-273 in the semi-finals, while Kothari had edged past Dhruv Sitwala 900-756 in the other semi-final. Advani will now participate in the next tournament of the World Billiards Champions, which will be in the shorter format (150 up).