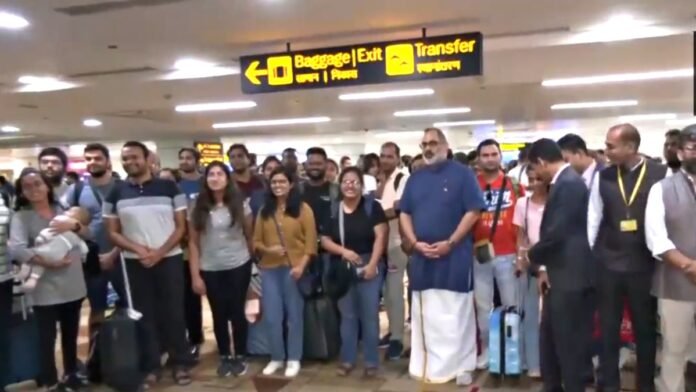 New Delhi: On one hand, today is the 7th day of the bloody war between Israel-Hamas. Amidst all these difficult circumstances, the Government of India has rescued 212 Indian citizens stranded in Israel under Operation Ajay. Please note that this morning Air India flight AI1140 reached Delhi safely carrying 212 Indian citizens.
Today, Union Minister Rajiv Chandrashekhar himself reached Delhi Airport and welcomed everyone. Let us tell you that according to Indian time, the first charter flight took off from Israel's David Bengurian Airport at 12:44 pm on Thursday night carrying 212 Indians who wanted to leave the country amid the Israel war.
The government of India ready to protect every Indian
Union Minister Rajeev Chandrashekhar, who was present at Delhi Airport, said that our government will never leave any Indian behind. Our government, our Prime Minister is fully committed to protecting them and bringing them back home safely. We appeal to External Affairs Minister Dr. to bring our children back home safely. Very grateful to S Jaishankar and his team.
What do those who return to their homeland say?
Here, Manoj Kumar, who was brought to India from Israel under Operation Ajay, said, I was working there as a post-doctoral fellow, my wife and 4-year-old daughter are also with me. I thank the Indian Embassy in Tel Aviv for their great cooperation… Along with this, I thank the Ministry of External Affairs of India for coming to India safely. The Israeli government is also working day and night
Another woman, who came to India from Israel under Operation Ajay, said, my son is only 5 months old, the place we were in was safe but due to the future situation and for the sake of our son, we decided to come to India. The first night we were sleeping when a siren sounded, we had been there for the last 2 years, we had never seen such a situation before. We went to the shelter, we stayed in the shelter for 2 hours. We are feeling much better now.
What is the Indian government's stand?
Please note that India has described Hamas' attack on Israel as a major terrorist attack. However, he also said that India's policy regarding Palestine has remained the same for a long time. India has always been strongly advocating the creation of an independent and sovereign Palestine through negotiations. At present, this is India's stand even today.
On the other hand, 2,700 people have been killed so far in the war between Israel and Hamas that started on October 7. Of these, about 1,300 are Israelis. So far, about 1,400 Palestinians have also lost their lives.