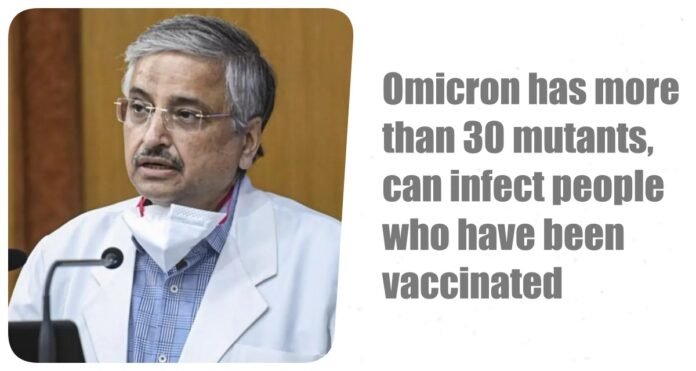 New Delhi: The new variant of the coronavirus, the Omicron variant of Coronavirus, has once again caused panic across the world. The World Health Organization has issued a warning regarding this variant. Now AIIMS director Dr. Randeep Guleria has made a big disclosure about Omicron of Corona. Dr. Randeep Guleria says that there are more than 30 mutants of Omicron of Corona. The efficacy of vaccines against it needs to be critically evaluated.
Dr. Randeep Guleria said that it may be that the new variant of Corona can also eliminate the effect of the vaccine. However, research needs to be done on this. He said that the Omicron variant can also infect people who have been vaccinated. We are doing research on this. He said that at present it is a matter of relief that till now no one infected with this variant has been found in India. Dr. Guleria has seen a sudden increase in people traveling internationally. Therefore, there is a need to be very careful and keep an eye on the travelers coming from abroad.
He said that future course of action would depend on what emerges in more detail on its spread, intensity, and ability to evade immunity. Officials said that the Indian SARS-CoV-2 genomic consortia are closely monitoring the new variant B.1.1.1.529 of the coronavirus and its presence in the country is yet to be detected.
Need to keep an eye on international travelers
Dr. Guleria stressed the need to be very vigilant and keep an aggressive vigil, both for international travelers and in the region where there has been a sudden increase in the number of cases. He said, "At the same time, we should sincerely ask everyone to follow the covid appropriate behavior and not reduce our security. At the same time, it has to be ensured that people get both doses of the vaccine and those who have not yet been vaccinated are encouraged to come forward to take it.
The first case was found in South Africa on 24 November
The new, and potentially more infectious form, was first reported from South Africa to the World Health Organization (WHO) on 24 November. Since then, cases have been found in Botswana, Belgium, Hong Kong, and Israel, among other countries.
WHO also considered Omicron dangerous
Before AIIMS, WHO has also admitted that the new variant Omicron can prove to be dangerous for people. The World Health Organization says that it is very dangerous and infection has been found in both the people who have been vaccinated. Not only this, a person infected with the new variant in Israel was given a third booster dose along with both doses of corona vaccines. Scientists are doing analysis and it has been found that the new variant is spreading faster than any other variant including Delta.