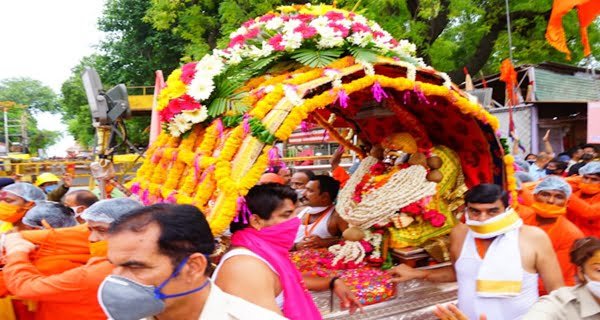 Indore: Due to the outbreak of Covid-19, this time, on the first Monday of the month of Shravan, the religious views of Mahakaleshwar Jyotirlinga and Omkareshwar Jyotirlinga of Madhya Pradesh were changed. Adopting measures to prevent epidemics in both the holy shrines of Lord Shiva, devotees were allowed to visit a controlled number of darshans. An official of the state's public relations department said that around 9,000 people were allowed to visit the Mahakaleshwar Jyotirlinga of Ujjain on the banks of the Kshipra River at different times on Monday. These devotees had registered online for darshan. The official said, "Usually on the first Monday of Sawan, around one lakh people arrive to see Mahakaleshwar Jyotirlinga.
But this time the number of devotees has been controlled to protect from Covid-19. " Meanwhile, at Omkareshwar Jyotirlinga in Khandwa district, the administration made special arrangements on the first Monday of the month of Shravan to rescue Covid-19. Mamta Khede, Chief Executive Officer (CEO) of Omkareshwar Temple Trust and Sub Divisional Magistrate (SDM) of Khandwa district, told that devotees through different online mediums like website and app to visit this Jyotirlinga of Lord Shiva situated on the banks of river Narmada- Controlled numbers were allowed at different times. However, he was not allowed to enter the sanctum sanctorum of the temple. He told, "To stop the crowd on Shravan Monday, we stopped the bathing of devotees at the Narmada Ghats of Omkareshwar.
The entry of Kanwari in this religious city was also banned. " Due to the outbreak of Covid-19, the administration has also had to change the path of Lord Shiva's "ride" (traditional procession) in Ujjain and Omkareshwar. Officials said that on the first Monday of the month of Shravan, a very limited number of people were allowed to participate in both religious towns, shortening the traditional route of the "ride" of Lord Shiva. He told that thousands of Shiva devotees throng these processions every year. But this time due to the outbreak of Covid-19, there was a ban on the participation of common devotees.