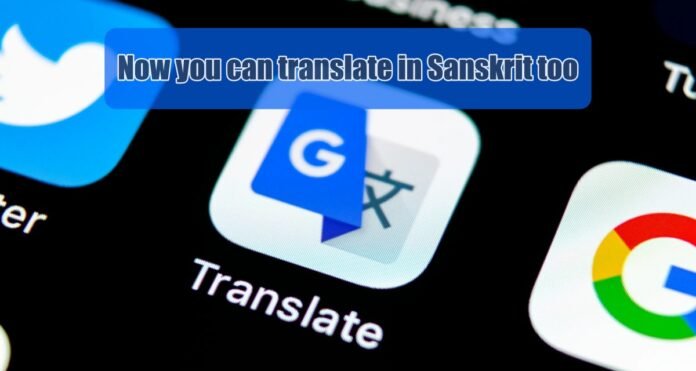 New Delhi: According to news, now the giant search engine Google has added eight Indian languages, including Sanskrit, to its Google Translate. Be aware that Google is constantly adding many regional languages ​​to its online translation platform. In this regard, Isaac Caswell, Senior Software Engineer, Google Research, told the media, "Sanskrit is the number one and most requested language in Google Translate and now we are finally adding it. We are connecting languages ​​from Northeast India for the first time."
Apart from Sanskrit, the latest program of Google Translate now includes other Indian languages ​​such as Assamese, Bhojpuri, Dogri, Konkani, Maithili, Mizo, and Meitilon (Manipuri). With this, now the total number of Indian languages ​​available on Google Translate has gone up to 19. The announcement was made at the annual Google I/O conference that started late on Wednesday.
According to Google, all the languages ​​added in the update will be supported only in the text translation feature, but the company will also work on rolling out voice to text, camera mode, and other features soon. It is worth noting that now Google is also researching and working to overcome the shortcomings regarding the translation of Indian languages.
What is google translate
Let us tell you that, Google Translate is an Online Language Translator Tool which was created by the Google company in the year 2004 AD, but it came completely among the people in the year 2006, which completely translates any one language into another language. is enabled.
By the way, till now a total of 105 languages ​​have been added to Google Translate, with the help of which you can translate one language into another. Along with this, it also works for Dictionary (Dictionary), you can translate any word in another language and extract its meaning. Many young students of today are using the Google Translate tool to a large extent for their studies.
What are the advantages of Google Translate?
If your English is weak and someone messages you in English on WhatsApp or Facebook, then you can understand it by translating it through Google Translate with the help of Copy/Past and you can also reply in English in return.
Similarly, if someone sends you a message in Telugu, China, Punjabi, or another language, which language you do not know, then with the help of Google Translate, you can understand it by translating it.

Young students can easily find the meaning of any English word with the help of Google Translate during their studies.
Overall, Google Translate has helped a lot in translation. However, even today, many questions have been raised regarding its accuracy. But it is also a fact that even today millions of people use this tool every day.