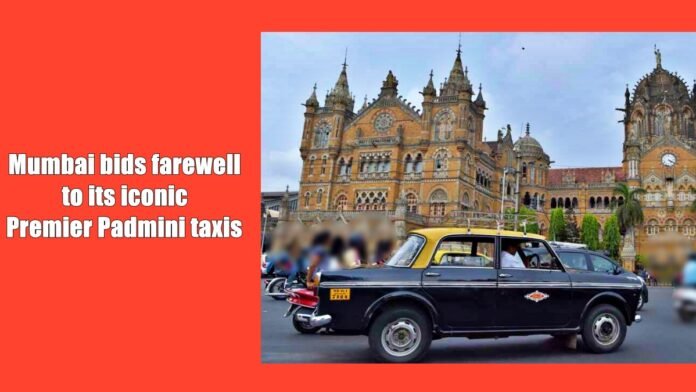 Mumbai: Mumbai, the financial capital of India, is known for its vibrant and diverse culture, its bustling and chaotic streets, and its iconic modes of transport. Among them, the black and yellow Premier Padmini taxis, or kaali-peelis as they are affectionately called, have been a symbol of the city's heritage and identity for over half a century. However, from Monday onwards, these taxis will no longer be seen on the roads of Mumbai, as they have reached the end of their 20-year operational limit.
The Premier Padmini taxis were introduced in Mumbai in 1964 when the Maharashtra government encouraged local products. The taxis were manufactured by Premier Automobiles, a Mumbai-based company that had a license to produce Fiat cars in India. The Premier Padmini was a 1200-cc car that offered better luggage space and legroom than its competitor, the Ambassador. The car soon became popular among taxi drivers and passengers alike and dominated the city's taxi fleet for decades.
The taxis have been featured in numerous Bollywood movies, songs, and posters, and have become an integral part of Mumbai's landscape and culture. They have witnessed the city's transformation over the years, and have served millions of commuters with their reliable and affordable service. They have also been a source of livelihood and pride for thousands of taxi drivers, who have formed strong bonds with their vehicles.
However, with the advent of newer models and app-based cab services, the demand for the Premier Padmini taxis has declined over the years. The taxis have also faced challenges such as rising fuel prices, maintenance costs, emission norms, and competition from auto rickshaws and buses. As a result, the number of Premier Padmini taxis on Mumbai's roads has fallen from 58,000 in 2003 to 20,000 in 2010. The last Premier Padmini taxi was registered at the Tardeo RTO on October 29, 2003, with the registration number MH-01-JA-2556. The owner of this taxi, Abdul Kareem Karsekar, who lives in Prabhadevi, said that the taxi was Mumbai's pride and his life.
The retirement of the Premier Padmini taxis comes shortly after the phasing out of another iconic mode of transport in Mumbai: the red double-decker diesel buses of BEST. These buses were also a part of Mumbai's heritage and identity but were discontinued due to their high operational costs and low passenger occupancy. The removal of these two modes of transport has left many Mumbaiites nostalgic and sad, as they feel that a part of their city's history and charm is being lost.
Some transport enthusiasts and art lovers have demanded that at least one Premier Padmini taxi be preserved on the road or in a museum, as a living monument of Mumbai's legacy. Daniel Sequeira, a classic car enthusiast who has collected an old taxi mechanical fare meter, said that these taxis have been a part of the city's landscape for more than five decades and have sentimental value for several generations. Pradeep Palav, a Parel resident and art lover, said that nowadays Premier Padmini taxis can only be seen in murals on walls in Mumbai. He said that although they have gradually disappeared, they have made a place in the hearts of the people.
The Mumbai Taximen's Union, the largest taxi driver union in the city, had petitioned the government to preserve at least one black-and-yellow taxi a few years ago, but without success. AL Quadros, the general secretary of the union, recalled that Premier Padmini's journey as a taxi started with the Fiat-1100 Delight model, which was a powerful car with a spacious interior. He said that the taxis had served the city well for many years, and hoped that they would be remembered fondly by the people.