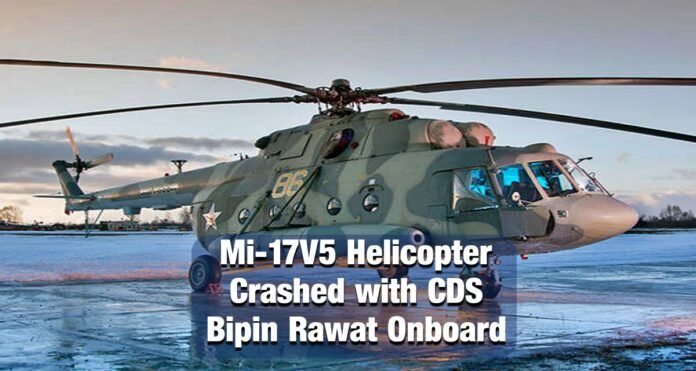 New Delhi: An Army helicopter crashed today in Coonoor, Tamil Nadu. CDS Bipin Rawat, his wife, and some senior army officers were in this helicopter. The Indian Air Force informed that this helicopter was an IAF Mi 17 V5 helicopter, which has been a victim of the accident. There were 14 people in this helicopter.
It is a medium-lift helicopter of the Air Force, which is an important part of the Air Force. This combat role serves to transport soldiers and officers from one place to another. So let us tell you what is its specialty…
The helicopter made in Russia
The Mi 17 V5 helicopter is manufactured in Russia. It is produced by a subsidiary, Kazan Helicopters. This is the most advanced class of helicopters in the Mi series helicopters available so far with the Indian Air Force. The main job of this helicopter is to transport and move soldiers from one place to another, to get out of the war zone, and to help in rescue operations. It can also be made an attacker with light weapons if needed, but the Indian Air Force usually uses it only as a non-combat helicopter.
This is the specialty
These Mi series helicopters are being used in many countries around the world. The performance of these helicopters is considered quite reliable. The helicopter is designed on the basis of the Mi-8's airframe. However, more advanced technology has been used in this than before. Helicopters can easily fly in all weather i.e. very cold and very hot environments.
The cabin of the helicopter is very big. Its floor area is more than 12 square meters. The helicopter is designed in such a way that the cargo and troops can be rapidly unloaded through the rear. On the other hand, the Mi 17 V5 has been upgraded based on the specific needs of India.